The event which was focused around educating young people about the importance of healthy cooking and eating saw pupils take part in workshops lead by industry experts from Mar Hall,The Rusacks Hotel and The Inn at Kippen and heard from top Chefs including Ibrox Stadiums Head Chef and the Executive Chef at Duck Bay.
St Stephen's High School pupil, Michelle McFadden said, "It was good to see how different chefs work in the kitchen and the industry.
My favourite part of the day was making the desserts
They were also joined by John Dempster a Gordon Ramsay trained Mixologist who taught the students about flavour profiles and the history of ingredients.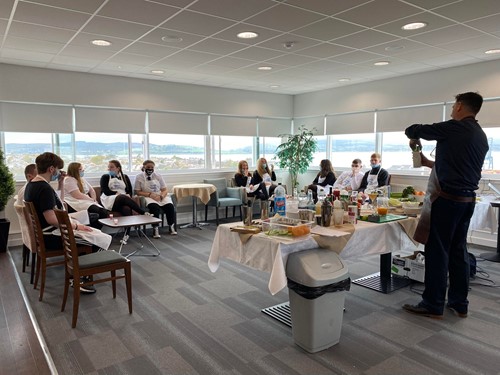 Speaking to John he said, "It was a pleasure to be part of this event. The pupils interacted really well, with a lot of them learning about some foods they'd never even heard of.
I hope they went away with a better understanding of mixology and have been inspired to explore more about food and drink. Hopefully we can do something like this again next year.
"It was a really good event. Learning about the smoothies was interesting and learning about how all the different spices worked together and how it made a specific taste" Neve Sheridan of Notre Dame High School
Curriculum and Quality Leader, Christopher Watson who orchestrated the events said, "I'm delighted at how well all three events went. Each of them were a great success and well received by all the pupils who took part. It was a pleasure to be able to host an array of industry experts and see the pupils engaging so well with all the activities.
We hope we have inspired the next generation of top chefs and look forward to seeing some of the pupils join us at the College over the coming years.