The event was organised to support the hard working, dedicated staff who have worked throughout the COVID pandemic, with the aim of restoring their wellbeing and to say a huge thank you for their efforts.
Hosting within the atrium of the Institute of Neurological Science building, staff were able to drop in to be treated to either a hand and arm massage and or onsite back neck and shoulder massage treatment, courtesy of our students.  Staff from the theatres, wards and critical care units all came along for some much needed pamper time.
16 students from across our 3 campuses took part on the day, supported by technician, Lorraine Kinnear and Curriculum Enhancement Lecturer, Caroline Cullen.
Caroline said,,
We had a great day, it was so satisfying for the students to give something back and pamper the hard-working NHS staff. All the students had a fantastic experience, and we were so proud on how hardworking and professional they were. We presented the students with a WCS Flourish certificate to recognise and celebrate their achievement in the field of Citizenship and Enterprise and we look forward to more future events like this one.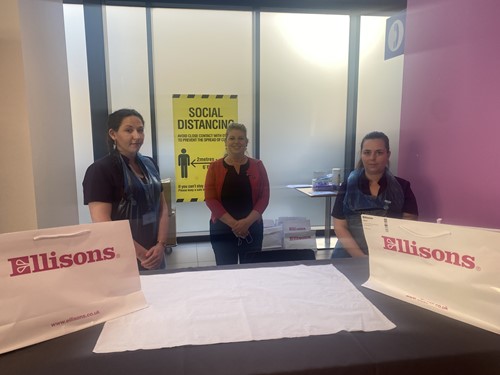 Christina McEwan, Aesthetic and Nail student Greenock campus said,
I really enjoyed my experience at the hospital, giving a little something back to the NHS staff, Even more so when I knew we were working at an area of the hospital in which my best friend was treated for Encephalitis. This made the event more special and closer to my heart. I Came away from the day on a total high and would love to return soon, the gratitude we received as a college was such a great feeling. I enjoyed making new friends with the cross-campus Beauty students.  I am so happy to have been invited & thanks for having me.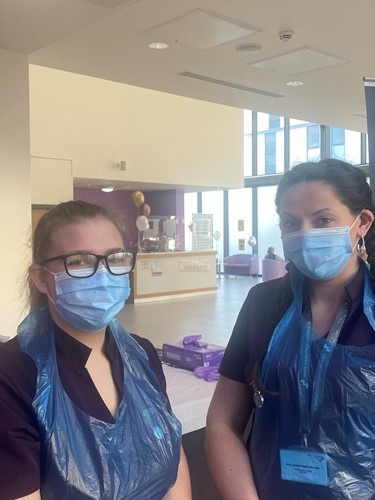 The feedback from the NHS Staff was so positive, Education Nurse, Mary Hannah who organised the event said,
We can't thank the Beauty Therapy students and staff from West College Scotland enough. You made such a difference to our staff, in fact there were quite a few patients who felt left out! The students were excellent ambassadors for the College, and you should all be very proud.
Lead Nurse, Lynsday Creighton said,
On behalf of all our colleagues please accept our gratitude for your support with our Wellness event. Our nurses said that the WCS team were friendly, professional and simply fabulous! We all really enjoyed our day with and hope to work with the College again in the future.