Our charity work
Every year College staff and students work hard to fundraise for various charities. in the last two years, we raised just under £33,000 and supported over 40 charities - which was just amazing. Take a look and see how we are getting on so far in the 18-19 academic session.
(If you are planning a college fundraising event please email  marketing@wcs.ac.uk and tell us all about it so we can include your fundraising efforts!)
Raised by our students and staff this academic year
10 June 2019
Wet Sponge Fun in the Sun
Calum's Cabin
Health and Social Care staff and students at our Greenock Waterfront campus took advantage of the good weather by doing some fantastic fundraising in aid of Calum's Cabin. Three brave lecturer's got involved in the Wet Sponge Throwing contest, well done to Ian English, Vivian Young and Iain McPhail. There was also a golf putting event, white water rafting, a cake bake and a raffle! Well done!
£1,000
6 June 2019
Pampering Session and Advice Stall
BiPolar Scotland
A group of our Paisley NQ6 Media Makeup students treated clients to a pamper session recently all in aid of Bipolar Scotland who provide information, support and advice for people affected by bipolar disorder, their carers and others with an interest in its work. They offered nail & blow dry bars, a makeup masterclass and sold raffle tickets. A fantastic £111.96 was raised for the charity - well done!
£112
6 June 2019
Glam Makeover, Raffle and Refreshments
Renfrewshire Women's Aid
The fairy glam-mothers of our Paisley NQ6 Media Makeup class were hard at work recently with a day of hair and makeup inspired by influential women all in aid of Women's Aid who aim to empower and support vulnerable women. They had a menu of make up makeovers, hair appointments, raffle tickets and refreshments. An amazing £200.23 was raised for Women's Aid!
£200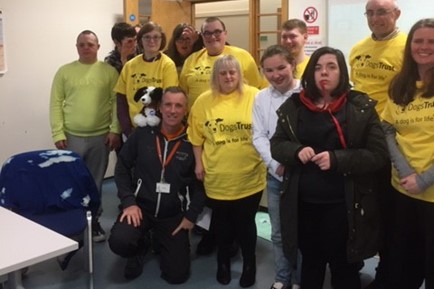 3 June 2019
Guess the Name of the Dog, Sponsored Walk and Coffee Morning
Dogs Trust
Our Learner Development students from our Clydebank Campus did 2 fundraising events – guess the name of the dog and a sponsored walk. The Access to Nursing class held a coffee morning and donated £20 to the final total. Well done to everyone!
£448
31 May 2019
Charity Event
A Helping Hand
A huge well done to our Paisley Education Support Assistance students who recently raised £80 for A Helping Hand - Paisley as part of their Working With Others Unit. Along with the funds raised they have also kindly donated some bags of non-perishable items to help others in the community.
£80
30 May 2019
Begin Hairdressing Students Fundraiser
Scottish Huntington's Association
A huge thanks to our Paisley students from the Begin Hairdressing January class who raised a fantastic £251.00 for Scottish Huntington's Association as part of their Working with Customers module
£251
29 May 2019
Level 5 Social Science Tombola and Bake Sale
Cancer Research
The Level 5 Social Science class at our Waterfront campus raised a whopping £500.12 by going on a sponsored walk around the cut in Greenock, They also held a tombola and a bake sale at the waterfront campus. This was done as part of their working with others unit.
£500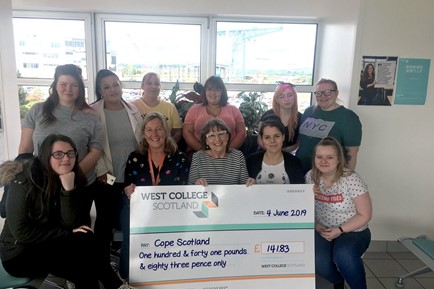 28 May 2019
Wellness Event
COPE Scotland
Entry to Care Services had a wellness event. The students had a stall selling health cakes, aromatherapy lip balm, headache balm , hand massage , meditation and card readings.
£142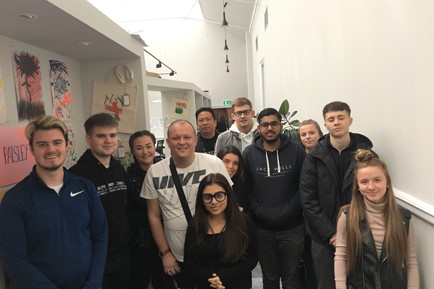 27 May 2019
HNC Interior Design
Prostate Cancer, The Beatson and Penny Appeal
HNC Interior Design students created a Showcase Event - inviting family and friends to view their projects from the year. An entry donation, tombola and kids face painting raised £220 to be divided between charities - Prostate Cancer, The Beatson & Penny Appeal. Well done to all the students - a great event!
£220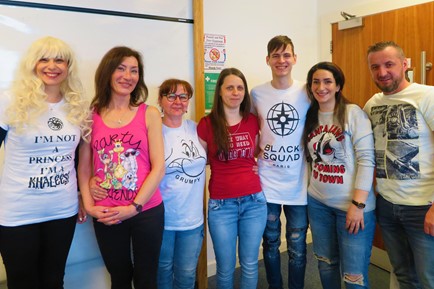 23 May 2019
Geeky T-Shirt
CHAS
Well done to our ESOL students (Paisley) for their Geeky T-shirt fundraiser for CHAS. Everyone wore great t-shirts and the staff even got involved too.
£209
21 May 2019
Step 1 Students at Clydebank Fundraiser
SpecialEffect
Congratulations to Clydebank Campus Learner Development Step 1A group. The class took part in a sponsored walk around the College and, also, hosted an information table about the charity on campus. SpecialEffect is a UK based charity which uses video games and technology to enhance the quality of life of people with disabilities.
£153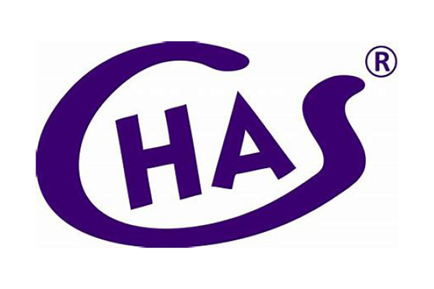 7 March 2019
Tasty Tombola
CHAS
Thanks to our NC Travel and Tourism students (Clydebank) a for their excellent efforts in raising money for CHAS from Tombola sales. Well done
£150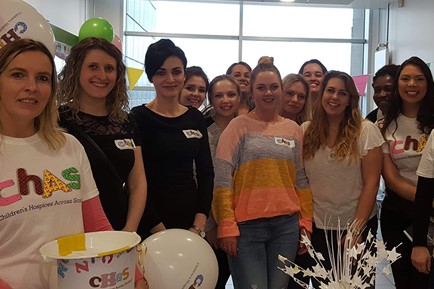 20 February 2019
ESOL Fundraising Event
CHAS
The Intermediate ESOL class raised £658.30 for CHAS on 20th Feb by selling homemade cakes and coffee and a raffle.
£658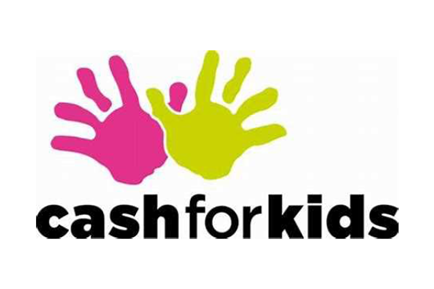 20 December 2018
Health and Social Care Students at Clydebank set up Giving Tree
Cash for Kids
Our Health and Social care students at Clydebank volunteered some of their lunchtimes to raise funds on the lead up to Christmas. They had a 'Giving Tree' which involved people donating, and in return they wrote a message which was attached to the Tree. A great amount was raised, so well done everyone!
£192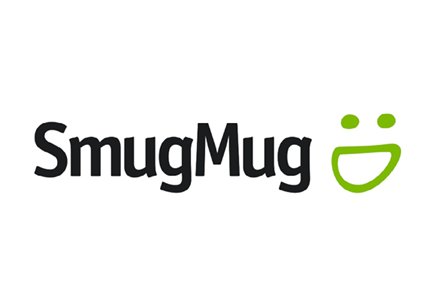 30 November 2018
Smugmug Sales
Glasgow Children's Hospital Charity
Snappy Happy! Our HN Photography students raised £306 for one of Glasgow's favourite charities by selling their Graduation images online. Well done!
£306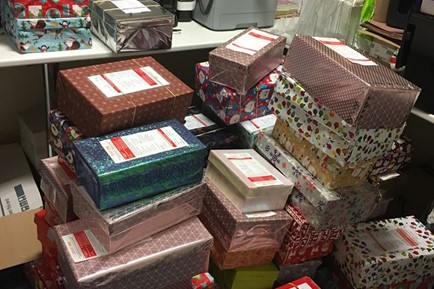 12 November 2018
WCS Staff and Students Shoebox Fundraiser
Blythswood Care Shoebox Appeal
A superb effort by college staff and students who filled 109 boxes for the Blythswood Shoe Box Appeal
£0
7 November 2018
Charity Event
Glasgow Children's Hospital
Our ESOL and Care students from Paisley held an international bake sale, raffle and bucket collection They also sold hand-made bracelets and dream catchers and second hand toys to raise this great amount for CHAS.
£827
6 November 2018
Clydebank Level 5 Social Science Students hold Cake Bake and Tombola
SAMH
Level 5 Social Sciences students at Clydebank raised a whopping £368.04 for SAMH by holding a cake bake and tombola. Well done.
£368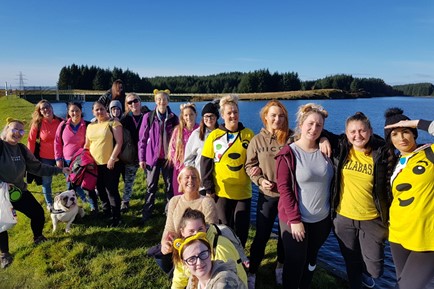 2 November 2018
Sponsored Ramble to Loch Humphrey
Children in Need
Our Clydebank Campus Childhood Practice students got on their walking boots and raised a great amount for Children in Need
£580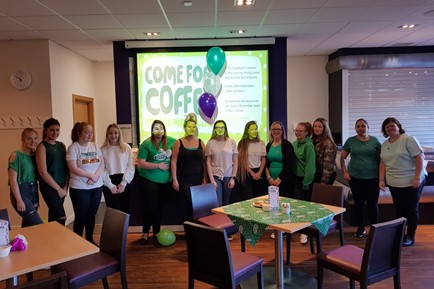 28 September 2018
Entry to Education and Childcare Fundraising Event
Macmillan Cancer
The 28 students from Entry to Early Education and Childcare held a coffee morning in 71 @ the Quay. Hot drinks and delicious treats were sold and a fabulous £600 was raised.
£600
22 September 2018
Science Team, Greenock
Macmillan Cancer
The Greenock campus science department kick-started our fundraising season by hosting a Coffee Morning in aid of MacMillan. Nice work!
£368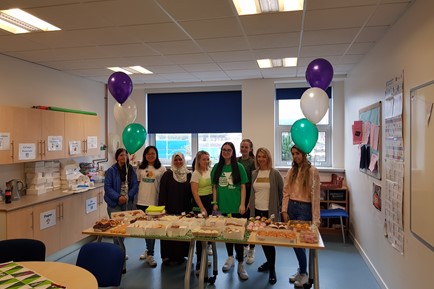 4 October 2019
Macmillan Coffee Morning
Macmillan Cancer Support
Well done to the Clydebank Entry to Early Education & Childcare class who raised a fantastic £300 for MacMillan Cancer Support by hosting a MacMillan Coffee Morning on Friday 4 October.
£300