Our charity work
Every year College staff and students work hard to fundraise for various charities. in the last two years, we raised just under £33,000 and supported over 40 charities - which was just amazing. Take a look and see how we are getting on so far in the 17-18 academic session.
(If you are planning a college fundraising event please email  marketing@wcs.ac.uk and tell us all about it so we can include your fundraising efforts!)
Raised by our students and staff this academic year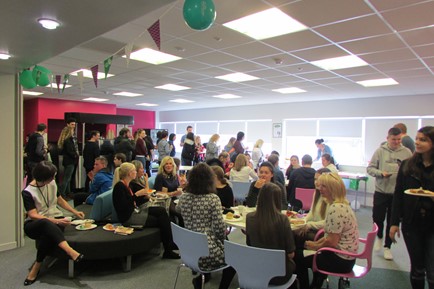 3 October 2017
MacMillan
Science Staff and Students got together to bake scrumptious treats for all to enjoy at our Greenock Campus in aid of MacMillan. An amazing amount was raised at a very busy event. Congratulations!
£300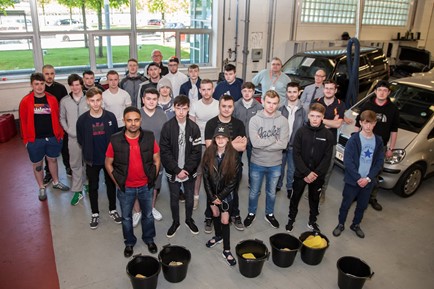 3 October 2017
St Margaret of Scotland Hospice
Motor Vehicle students at the Clydebank Campus students got their hands extra soapy to raise funds for this much loved local Charity. Great effort everyone!
£296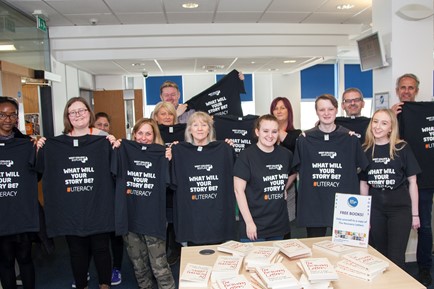 24 April 2018
Book Trust Raffle
Scottish Book Trust
Our Clydebank Library recently celebrated World Book Night by giving away free books to staff and students. To top it off they held a raffle in support of literacy, raising £30 for the Scottish Book Trust.
£30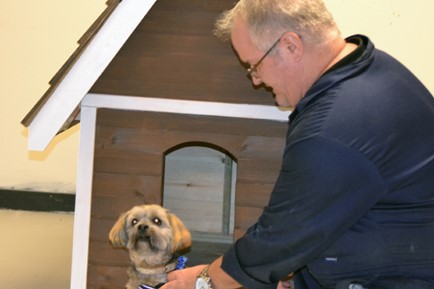 13 November 2017
Sale of Dog Kennels x 3
SAMH
A Barking Success! Our Construction department in Greenock built three dog kennels with all proceeds going to this wonderful charity.
£180
30 January 2018
Bake Off
Make a Wish Foundation
Well done to our Clydebank campus Entry to Early Education class who raised a whopping £320 for the Make a Wish Foundation. The students whipped up some show-stopping cakes and honed in on their team working skills to raise the money.
£320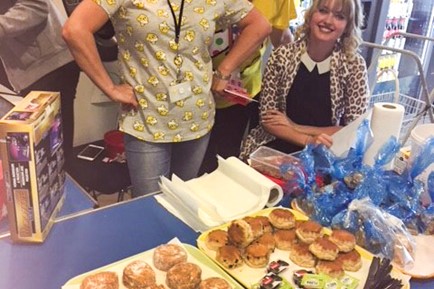 20 November 2017
Raffle
Children in Need
Cutting it for Charity - NQ Level 5 Hairdressers arranged a fabulous raffle at the Clydebank Campus. Thanks to all locals companies that provided a prize.
£574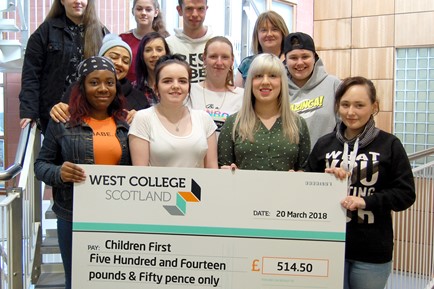 20 March 2018
Onesie Walk
Children First
Congratulations to our Paisley Care 4 Students who raised a whopping £514.50 for Children First by carrying out a walk dressed in their best onesies.
£514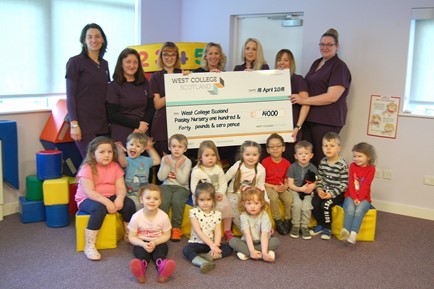 21 December 2017
Commercial Salon
WCS Paisley Nursery
Our Paisley HND Beauty Therapy students ran a commercial salon, with all proceeds going towards our Paisley Nursery. The children were very pleased! Well done!
£140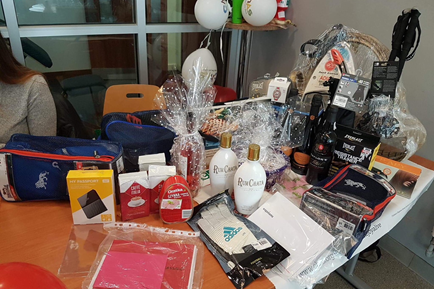 6 February 2018
Valentines Raffle
CHAS
LOVEly Fundraiser - lots of LOVEly items won at this raffle arranged by our ESOL Intermediate B course in Paisley.
£281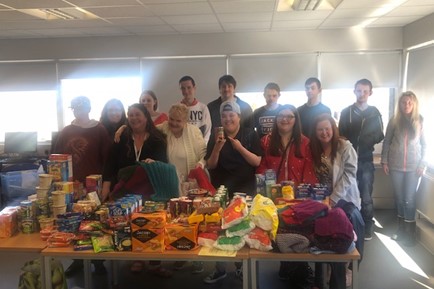 2 May 2018
Back to Home Boxes
Compassionate Inverclyde
Our Greenock Certificate of Work Readiness students carried out a range of fundraising activities including: a bike ride around Millport and a crafts sale, selling handmade cards and wooden hearts. The students raised £165 which they used to buy items for the back to home boxes as part of the Compassionate Inverclyde project. Alison Bunce from the charity commented, "I am delighted and so proud of all the people who have taken part. What a fantastic achievement and a wonderful way to support the people of Inverclyde. The back to home boxes are making such a difference and in some cases are a 'life saver' so your contribution is so appreciated." Well done to all those involved.
£165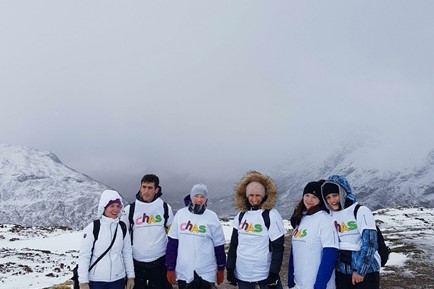 10 February 2018
WHW
CHAS
Walking the Distance for CHAS - Following on from their earlier February fundraiser our Paisley ESOL intermediate B students donned their walking boots for CHAS. Just over £700 in two months! Wow!
£450
15 March 2018
Tea and Scones in Ambition
Friends 4 Ever
Pastry Perfect - Our Profesional Cookery students in Greenock wowed staff and students with their pastry delight. This fundraiser builds on the success of last years event. Well done everyone!
£450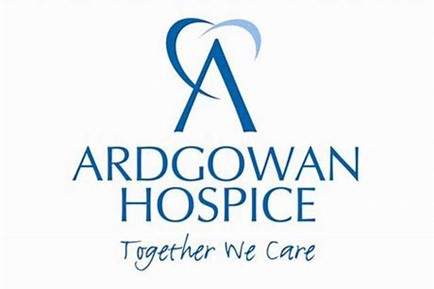 20 November 2016
Graduation Collection
Ardgowan Hospice
Graduation Collection - Our Graduates and Guests kindly donated over £70 to the Hospice at the Greenock Graduation Ceremony.
£74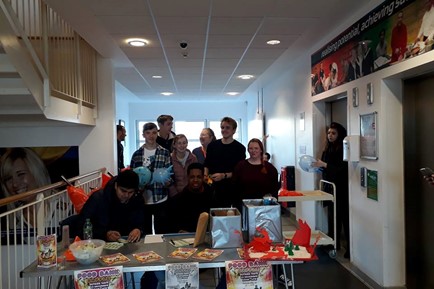 20 December 2017
Raffle
WDC Foodshare
Banking on Our Applied Science level 6 students issued raffle tickets out to everyone who donated a food item for the local foodbank. Lots of food and vital funds were raised.
£265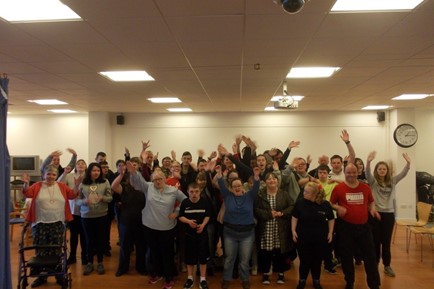 30 March 2018
Keep Dancing
Sport Relief
Our Paisley Learner Development students donned their dance shoes and took to the floor to showcase their best moves to raise money for Sport Relief. The 'danceathon' raised a fantastic amount of £875.50. Well done to all those who took part.
£875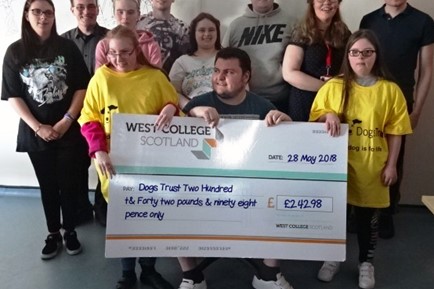 28 May 2018
Walkies
Dogs Trust
Our Clydebank Community Course raised a fantastic amount of £242.95 for Dogs Trust by carrying out a sponsored walk around Milngavie reservoir and by holding a 'name the bear' event. Well done to all those involved and thank you to everyone who donated!
£243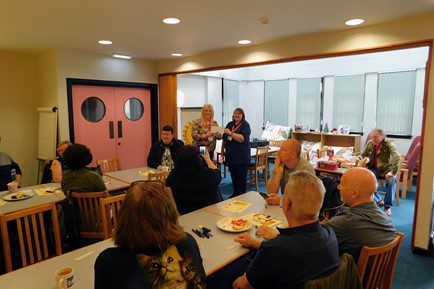 15 May 2018
Raffle
Quarriers Head Injury Service
Our Staff arranged a tombola at our Ferguslie Learning Cenre Open Day and raised just under £100 for Quarriers. What an amazing amount to raise, well done!
£92
20 May 2018
Cruk 5k
CRUK
Seven of our Greenock Science staff got their pink on to run in the Glasgow Race for Life in May. What an amazing amount to raise!
£1,102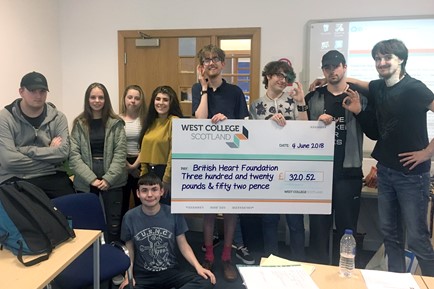 22 May 2018
Sponsored Walk to Dalmuir
British Heart Foundation
Our Clydebank Certificate for Work Readiness Students hit the pavements for this 5 mile to Dalmuir Park and back in May. Everyone was delighted with the amount raised!
£320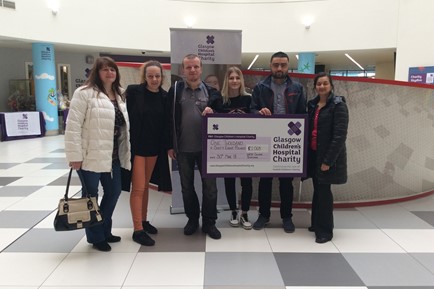 22 May 2018
ESOL Fundraiser Freshly Squeezed
Glasgow Children's Hospital Charity
Our Clydebank ESOL Intermediate students as part of their Working with Others unit put on a variety of events, such as Guess the Teddy's Birthday, Valentine's Theme Day, Just Giving and raffles. GCHC was so impressed that they invited some of the students to come along to the hospital and get a tour. They saw how their money would help fund new projects and support existing ones.
£1,068
12 June 2018
Raffle
SAMH
Well done to our Clydebank On Track Social Science students who raised a superb about for this mental health chairty in June!
£177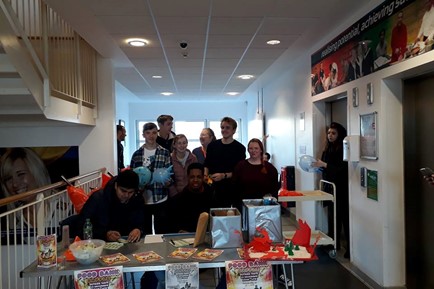 30 May 2018
Raffle and Tombola
Robin House & Epilepsy Scotland
Through a series of raffles our Clydebank NC Travel and toursim class raised a superb total to be shared between two of their favourite charities.
£210
23 May 2018
Trashion Fashion Show
RAMH
Our Paisley Make-up Artistry students showed how combining recycling and fashion can make some wonderful creations at their fabulous 'Trashion' event. Thanks to local businesses and former students for their raffle donations!
£65