West College Scotland would like to congratulate our two Greenock Campus Vehicle Spray Painting students for competing well in the SMTA Bonnet Design Competition.
Rian Mulvaney and George Murray placed 2nd & 3rd respectively in the competition that required them to use a car bonnet as their canvas for a Scotland-Inspired piece. The students were presented with their awards at the Scottish Motor Trade Association's annual dinner in conjunction with the Institute of the Motor Industry. The pair were placed among the best after their car bonnets were praised highly by the judges.
The competition required participants to create a distinctly Scottish design on a car bonnet using the skills, abilities and techniques acquired during their Spray Painting course. Speaking about the inspiration for his piece, George said, "My design was based on silhouettes of the skyline of Glasgow – with a particular focus on the industrial side that I remember from visiting Govan when I was younger."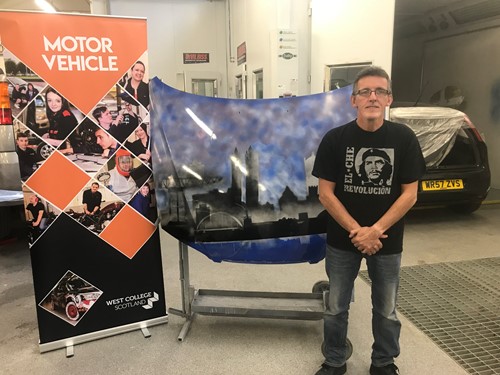 Rian, 18, took inspiration from other areas saying, "It was a mix of several ideas. I wanted to incorporate colours from New Retro Wave with other elements such as the people and environment found here in Scotland."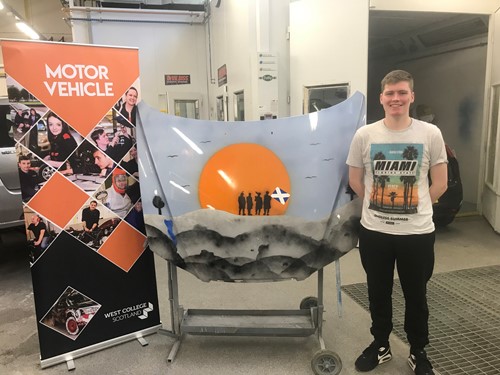 CQL for Motor Vehicles, Ryan Horn, was delighted at how well his students performed in the competition.
"To demonstrate their learning and skills at the highest level and to be judged by the Motor industries finest makes their achievement so much more special."
The students credit their achievements to their lecturers Ryan Horn and Michael Ptolomey who the pair say really helped instil a sense of pride and focus into their work. Rian said, "They gave us extra work, which was great as extra practical work is essential. I liked that you got to work off your own initiative."
Echoing Rian's thoughts, George said "They've made us take pride in our work and have helped us understand the importance of having a good reputation in this industry."