SCVLPTVR Hair salon in Anniesland has undergone a makeover thanks to a cross campus collaboration project with our Clydebank and Greenock campuses. West College Scotland has been delighted to be working in association with SCVLPTVR this academic year to deliver a pioneering approach to learning with our NQ6 Hairdressing students who have been running a commercial salon at SCVLPTVR Anniesland every Tuesday giving them invaluable industry experience.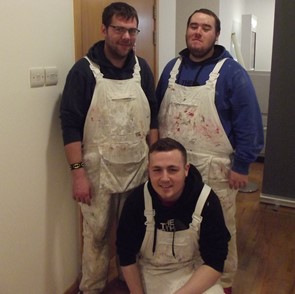 The salon refresh project which took place this January, arose from discussions between Janise Maxwell, Hairdressing Curriculum Enhancement Lecturer Clydebank, Andrew Neeson, Construction and Building Services Curriculum Enhancement Lecturer Greenock and John Preston, SCVLPTVR Salon proprietor. A plan was implemented for a collaborative project to develop student skills and provide live industry work experience to the NPA Painting & Decorating group, simultaneously working in partnership with the Hairdressing Academy students to create a realistic and welcoming work environment.
Paul Lynn, Curriculum Quality Leader for Construction & Building Services generously donated all of the painting supplies used to carry out the work and Andrew with the support & supervision of Lecturer, Stewart Robbie rallied a team of NPA students namely Curtis Clenaghan, Greg Taylor & Graeme Hendry to carry out the work.
The students were delighted to be given the opportunity to work on an actual decoration project. Graham said, "the experience gave me a better feeling for a real job, we also benefited from one to one teaching from the staff as we were in a smaller group than in College."
Curtis also highlighted the benefits saying the project allowed him to "gain more skills and knowledge on a real job". This was the same for Greg who commented that the project had allowed him to "gain more experience, as the owner wanted specific tasks completed, for example things like oiling of the wooden floor so it gave us additional experience we might not have got in College'.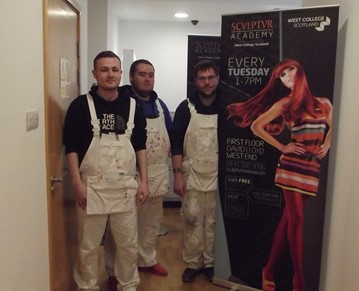 Janise highlighted the fantastic outcome for both groups of students as well as for our industry partner SCVLPTVR saying, "This collaboration between Greenock & Clydebank has benefited both groups of students by giving valuable work placement experience to the Greenock students and a fresh and inviting commercial salon for the Clydebank hairdressing students. This is hopefully a template for future projects not only between these two campuses but across all three."
SCVLPTVR Hair Academy relaunched on Tuesday 5th February in the new look salon with great praise from the Salon owners and clientele. Come along and see the fabulous salon upgrade yourself and treat yourself to a new look at the same time! Our Junior Stylists are available every Tuesday and appointments can be made by calling 0141 541 9096.
For full salon information and price list please visit https://www.westcollegescotland.ac.uk/business/scvlptvr-hair-academy and follow @westcollegescotland on Instagram for all our latest offers!