When Wendy enrolled at Clydebank College at 34 she was classed as an adult returner. She said she thought she had missed the chance to be make-up artist.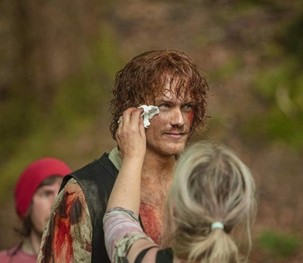 However from her very first day, Sandra Aird, one of her lecturers supported Wendy on her journey and she said "I knew I'd met someone who cared and had a passion for film and TV like I did. With her encouragement, I eagerly started learning the skills I needed to have a career in Hair and Make-up."
Wendy's background was initially in hairdressing, in her words "old school salons, lots of roller sets and perms!" which she said stood her good stead for period dressing of wigs in years to come.
Just before she finished her course, a soundman she knew, Douglas MacDougall, put her in touch with Amanda Black, a Producer who needed Hair and Make-up for a short film. She completed this project and then was able to progress to another, which was a Tartan Short. While working on this project she met Fiona Harvey, a designer, who then took her to Sweden to help on a film called Arn.
Wendy was encouraged by Sandra to apply for the Scottish Screen Traineeship. She did and although she got down to the final three but she wasn't successful. However, Scottish Screen still helped her on her career path. They put her in touch with Claire Harris, the Head of Department, Make-up and Designer at River City, and she learned about continuity saying "It's a well-oiled machine, and a great place to learn about all the other departments and what they do. The crew become like a family, your Film family."
Whilst at River City, Wendy wrote to Meg Speirs, a very talented Make-up designer, who then took Wendy under her wing, and taught her about colour, detail and special effects. She spent the next 5 years training and working with other Designers, and finally earned the title of Make-up Artist.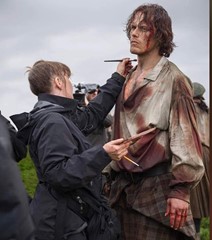 From there she met another Make-up artist, Candice Channing-Williams, who then took her to work with hair designer Kevin Alexander. Wendy said "I worked with him on many huge productions, in his crowd rooms. At this time, I learned much about period hair styling and wig dressing. I then got the job that means the most to me, Outlander!"
Wendy has been lucky enough to be on the production for 10 years and had the chance to follow actor, Sam Heughan. She said, "I have helped him develop a character who ages over 40 years get to pull all of my skills together, that I have developed over the years. I do hair, make-up, and special effects in a high end Period Production in Scotland."
Speaking of her time at College Wendy said, "With the support of Clydebank College and in particular Sandra Aird and the foundation they gave me, thanks to the invaluable guidance, support and encouragement I received, I have enjoyed 20 years working in this wonderful industry."
Would you love an exciting career in Makeup Artistry – check out our full range of courses.