The first steps in Raymond's education and career came whilst I was still at high school when he had the great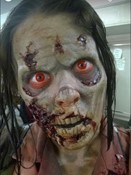 opportunity to complete a National Progression Award (NPA) in Cosmetology which gave him a good insight into the Beauty industry, Hairdressing and most importantly Make-up Artistry.
This introduction was the catalyst in what has been a 10 year career that has in his words, "surpassed my wildest dreams and changed my life completely." After completing the NPA delivered by Glasgow College of Commerce (now City of Glasgow College) his educators, Isabella Morrison and Alison Bell, saw his enthusiasm for make-up and helped guide him on to the next step in his education which was further training at college.
Raymond said, "My choice of college was based on my intended career route and the success rate of past graduates in the television and film sector as well as the reputation of the educators delivering the course. For me James Watt College Greenock (now West College Scotland) was the one that ticked all the boxes."
He spent 5 years in total at James Watt College and said "I was supported and educated by so many brilliant lecturers whom I owe a great deal of my success to. Its only now looking back after undertaking a few teaching posts that I really appreciate the hairdressing educators who guided me through my NVQ level 2 and SVQ level 3 and the make-up educators who guided me through my VTCT level 3, HNC and HND not only where they all fantastically skilled technicians but patient, supportive and nurturing teachers I wouldn't be where I am today without the input of Maureen Manley, Sylvia Brown, Sandra Clark, Paula Simpson, Kevin Gale and a very special friend and mentor of the last 14 years through college and beyond Isobel Donald."
Raymond looks back at his college years with fondness and many happy memories. He said, "A career in hairdressing and make-up artistry is by no measure an easy one but for those who commit to pursuing it with a determination to develop and grow it can be transformative. What you put in, you will receive back tenfold. Since leaving college I've continued to seek out training and continued to push my learning each step of the way."
Continuing his education, Raymond has undertaken hairdressing training at Sassoon Academy London, figurative sculpture classes at Glasgow School of Art as well as short courses run by some of the most respected artists in Britain. Raymond highlights that the constant shifting landscape of the make-up industry and in particular the television and film industry requires a continued commitment to learning in order to stay employable.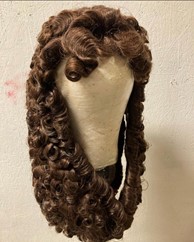 He said, "I've been blessed to work for broadcasters and networks such as BBC, ITV, Netflix, Channel 5, Paramount, Disney, Warner Bros, Sky and Apple RV, all whilst traveling the world in the process. My career has had me working in Belgium, France, Spain, Lithuania, Prague and all over the UK. Television and film work is far from glamourous but it is incredibly rewarding and if I (a wee guy fae Govan!) can make the dream a reality so can you."
Raymond speaks about the people he has been lucky enough to work with as part of his diverse career saying it has been "filled with so many wonderful people, colleagues and team mates and utterly joyous, productions like Emmerdale, Call the Midwife, and All Creatures Great and Small that I hold so dearly. But of all the great memories one stands out above all the rest, after a 3 hour crowd makeup call of elaborate braided hairstyles, tanning and beauty makeup I find myself standing in the mid-day sun of Fuerteventura on the set of Wonder Woman 2 surrounded by make-up artist and hairdressers who's work I had idolised throughout my early career (and still do). I had to pinch myself
to remind myself it was real. Being there, being paid to do a job I love all whilst seeing the world and learning from the most generous and talented group of individuals I've ever met."
www.facebook.com/rmcmakeupartist
Would you love an exciting career in Makeup Artistry – check out our full range of courses.