Originally from Vilnius County, Lithuania, Ana-Inga started out her education journey completing Bachelor of Arts degree in Art and in 2009 she took up the position of Art Teacher at Ausros High School whilst simultaneously studying a course in Hairdressing and Makeup at International Serge Louise Alvarez Academy.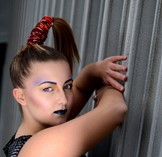 On graduation, Ana took the decision to move to Scotland in 2012. Although being fluent in Lithuanian, Russian and Polish, she spoke no English when she arrived in Britain. 
Initially taking work in the Hospitality industry, employment that saw her starting her grasp of the language of her new country, she worked hard to master English. 
In 2014 Ana-Inga gained her HND Makeup Artistry at West College Scotland before becoming a bank lecturer at the College in 2015. That year she also successfully opened her first Hair & Beauty salon in Greenock which she later relocated into the premises of well-established, family-owned hairdressers, Stewarts, also of Greenock in 2017. 
Throughout the past eight years she has steadily built up her business up and has twice been nominated in the Hair & Beauty awards being placed in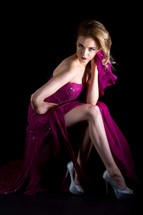 the top 10 in Scotland being her most recent achievement. 
Ana has focused her business in semi-permanent make-up, laser treatments and tattoos. Married with two children, living in the west of Scotland and now fluent in her adopted language, she retains a passion for hard work, success and, above all education. 
Her ultimate goal is to open an academy for education in her chosen field and inspire others to fulfilling, rewarding careers in the beauty industry. 
Would you love an exciting career in Makeup Artistry – check out our full range of courses.