The house builder made the donation to West College Scotland on Friday 2nd June at the college's Clydebank Campus. Persimmon West Scotland Land Director, Craig Moore made the donation to members of staff and students from the college's construction department where the bricks were put to good use.
The donation of bricks will support construction students studying in West's Clydebank Campus. The materials will support the college in allowing students more time on the tools whilst at college to complete skills tests and create models in the classroom.
With currently over 1,829 Construction & Building Services students across 20 courses, the construction department attracts students across the West of Scotland. Providing construction students with the necessary skills and experience to enter into a growing sector within Scotland, we are delighted to be working in partnership with Persimmon Homes.
The house builder, which creates more than 1,500 new energy efficient homes across Scotland each year, make their own bricks at their state of the art factory in Doncaster which can produce over 72 million bricks per year – enough to stretch from Clydebank to Canada and back again.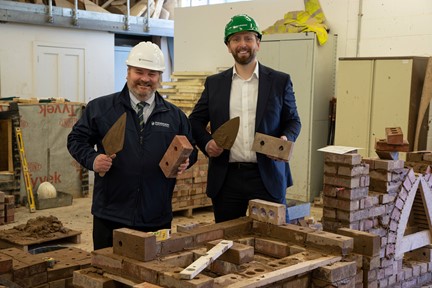 Andy Corbett, Curriculum Quality Leader for Construction at West College Scotland, said:
"We are delighted to be working with Persimmon Homes and these materials are greatly welcomed. We have already taken our final year apprentice brick layers through their Skills Tests using these materials. The opportunity for us to be working with key players from our industry is highly beneficial for both parties."
Craig Moore, Persimmon West Scotland Land Director, said:
"I'm delighted we're able to donate these much needed materials and support the fantastic work West College Scotland does to develop the future leaders of the construction industry."
"Persimmon is proud to be one of Scotland's largest employers of apprentice bricklayers and we're committed to creating exciting opportunities for everyone in the areas where we operate."
Feeling inspired? Take a look at our Construction courses starting in August, click here. 
(Photo credits: HNC Photography students Lisa Doherty and Bernadetta Zdzislawa Omer).