The College picked up the Outstanding Business Engagement in Colleges prize at the Annual Herald HE Awards for its work with construction company AC Whyte in setting up the pioneering training facility.
The AC Whyte Skills Academy was launched in September 2018.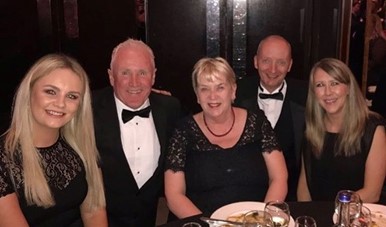 Commenting on the award, College Principal, Liz Connolly, said:
"This is a wonderful achievement by our Construction team, particularly the staff in Greenock.  With AC Whyte, they have designed a unique and innovative facility which gives apprentices a blend of classroom-based work as well as "real-life" experience at AC Whyte's own sites.  Students gain SQA-approved qualifications and are guaranteed a job with the company at the end of their course.
"We have had a fantastic relationship with AC Whyte and I'm delighted to say that we have agreed a five-year partnership with them."
The College's Head of Construction, Tommy Campbell, said:
"This new course has been transformative for the young people on it.  In the past, not all students managed to stay the course, but the Skills Academy has seen a 100% retention rate, which is almost unprecedented.
"This is great for the College, our partners at AC Whyte, who are getting a secure flow of qualified workers and – most importantly – great for our students."
Jennifer Phin, Managing Director, AC Whyte spoke of the win saying,
"We are delighted with this award, it recognises what can be achieved through partnership working. Since its launch, the Skills Academy has attracted significant attention not simply because it aligns with key Government objectives, or even the fact that it is completely unique, but because it's a bold, innovative and successful approach to fulfilling future skills needs."