Gathering at the Colleges Clydebank campus on Friday 8 September, Mariia was joined by Trustee of John Mather Trust, Marlynn Mackay, members of senior management, and lecturing staff as she was presented the award by the Colleges Principal, Liz Connolly.
Mariia's enthusiasm and talent captivates everyone she meets, Principal Liz Connolly commented:
"Mariia is so special in so many ways. She is such a deserving winner of the Rising Star Award and I'm thrilled to say I'm already a proud owner of one of Mariia's t-shirts featuring one of her fantastic designs! Her talent and resilience have shone through, and I have absolutely no doubt that Mariia will be a big star in the future."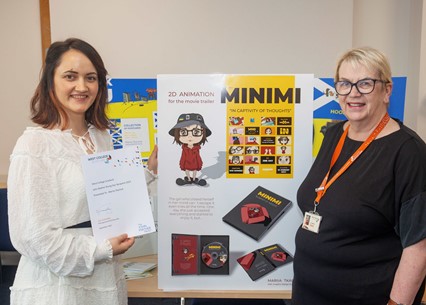 It is clear being awarded this year's Rising Star meant a great deal to Mariia, she commented:
"I really couldn't believe it when I was told I had won this award, I feel so honoured my work is being recognised. The prizes I have won, including the new technical kit, will make such a big difference in my design work. I'm so grateful for the Apple MacBook Pro and full Adobe package as these tools are such an asset in design but are normally really expensive for a student to purchase."
Trustee Marlynn Mackay commented: "John's legacy was all about supporting students in the West of Scotland to realise their full potential in the same way that he started off as an Apprentice with Clydeport. We hope to give students the same opportunities to kickstart their career, whether through the Rising Star Award or Tools of the Trade, it's so important to help young people to progress within their chosen career path."
She continued,
"Mariia's work is incredible, I'm truly blown away by the skill involved in her designs. Her enthusiasm, vision, and collaboration in her work between her home country of Ukraine and her new love for Scotland is inspirational. I wish Mariia the very best of luck."
We all wish Mariia the best of luck for her future and have no doubt she will be a huge star!
About Maria
Mariia moved to Scotland last year from Ukraine to pursue her passion for graphics, animation and cartoons. Having studied fine art in her home country, she had to make the move to Scotland to advance her studies and pursue her dream of writing, designing, developing and producing her own cartoons.
Mariia has been a real 'star' in her course and is well-liked by her classmates and staff and is always eager to get involved in all projects, including The Chocolatbox live-client project where she researched the history of Paisley for her designs. Mariia has also produced a series of postcard designs, badges and clothing to sell commercially as a tribute to her 'Scottish Hosts' ultimately as a thank you for making her feel so welcome.
Mariia, in her own words, is an introvert, but despite this, has been working as a part-time waitress in Balloch which has developed her people and language skills. She has kept in touch with all her friends and family in Ukraine (through phone calls and Facetime) which has helped her a great deal in settling in Scotland where she has also become very good friends with her Scottish host and classmates.
When asked about Mariia, Design lecturer, Deborah Dennett said, "Mariia stood out amongst her peers and has shown continuous improvement and a zeal for learning all aspects of design and animation, whilst continuously working outside of her comfort zone.
It was very clear from the beginning of her HNC in August last year that Mariia had natural design flair and a wonderful work ethic. Always open to new ways of working, Mariia really pushed her own development. She has abundant amounts of energy for not only her creative ideas but was so supportive and positive to her classmates with their work too. On our commercial experience led Summer School, Mariia went above and beyond the tasks, and she fully embraced art directing the photographers and liaising with her client and creative director to ensure she delivered what they needed.
I am so sure the future is bright for this star, and I'm excited to see what the future holds for her."
Speaking to Mariia about her future ambitions she said, "My dream for the future would be to do animation – it's incredible to be given a Wacom Cintiq 16 Tablet from the John Mather Trust as I can draw my designs by hand on there which then go onto t-shirts, bags and cards which I can sell to the public. I would love to stay in Scotland and go into employment as a graphic designer or work freelance and be able to explore more of this beautiful country."