This prestigious competition represents the culmination of Paul's competitive journey this academic year, during which he showcased his excellence in local and regional heats.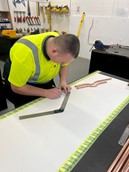 His lecturers commend his dedication to enhancing his bending, soldering, and installation skills, as he eagerly absorbs all the training provided at the college with a 'can-do' attitude.
Alongside his competitive success Paul, who is currently completing his SVQ Plumbing at West College Scotland's Paisley campus as part of the James Frew Academy also previously earned himself the title of ''Apprentice of the Year 21/22''.
Speaking of the experience Paul said,
"I'm very happy to have made it this far in the competition, it's been a tough but very enjoyable experience. Learning how to correctly bend and solder pipe to a high standard has been extremely valuable to me not only in the competition but has improved my college and on-site work too."
To prepare for the final stages of the competition, Paul has teamed up with his employer, James Frew Ltd.'s installation section, mainly boilers and cylinders on-site.
He said, "As the competition got closer, I've been able to fully focus on preparing for the finals, spending a few days in our yard piping up a mock installation. I've spent this week with my lecturer Brian in college. We've been working on the marking out process and getting used to the new benders to ensure I'm ready and able to compete at a high standard come the competition."
On his time at college, Paul said,
"West college Scotland have been brilliant with me, I've had loads of one-to-one time with Brian who has been great, passing on his installation and copper bending knowledge which has been invaluable. It's been very enjoyable working so close with him to help improve my skills".
Lecturer, Brian Thomson said, "Paul has been an exemplary student. We are extremely proud of him and his achievements in making it to the UK finals and I can't wait to see him display his skills. It'll be an amazing experience for him and one he should be very proud of."
He continued, "It's been great to see Paul's enthusiasm for our trade and his constant desire to improve on his technique as his competition journey continues. He really has been a pleasure to teach".
James Frew Managing Director Roddy Frew said:
"I was delighted to learn that Paul has been selected to represent James Frew and West College Scotland at UK World Skills. Paul Marshall is an ambassador for James Frew and has consistently produced work of a very high standard. These types of experiences are essential for apprentices their practical skills, their meta-skills, and benchamark themselves against the best in UK."
We wish Paul all the very best in the final – good luck!