On-May was inspired to apply for 'Glow Up' after being invited to a VIP party for MAC Cosmetics where she had a long discussion to Yong Chin (Season 4 winner contestant).
 "I told her how scared I was to apply for the show, but she fully convinced me. Week after that, I applied for the show, and I got an answer 2 hours after. It was FATE! I have been a massive fan of the show, and I get along with a few of the contestants! Dom and Val have always been my icons and will always be!"
Talking about the experience of taking part in the popular show, On-May said:
"Glow Up was STRESSFULLL!! 2.5 hours to do a look felt like an hour!!! There was a lot of stress, waiting around and tension. All of the contestants and I are all super close, and still today as we speak. We have all grown an amazing connection from the show and I'm so thankful to be on the show this year with the best people ever."
Each week contestants compete against each other with a new creative brief and have the opportunity to work on some of the biggest TV shows including Bridgerton and work alongside global brands such as MAC and Sephora.
On-May chatted to us about her work on the show:
"My favourite look has to be my first ep creative brief look. I created a look based on my secret "binge eating" and I painted an illustration of a huge mouth with a tape measure. I didn't have enough time at all to finish the centre of the piece, but if I had more time, I would have done it 1000000% better!"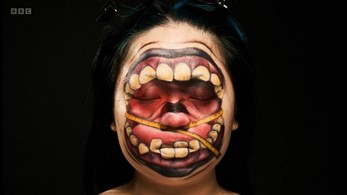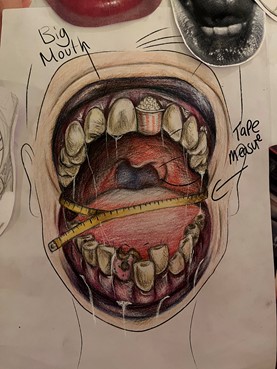 After starting on the Begin Hairdressing course at West, then NC Makeup Artistry and most recently HND Makeup Artistry, On-May credits the skills and experience she gained at college to helping her progress on the hit show . .
"My experience studying Makeup Artistry here in West College Scotland helped me a lot, as we were told to do a prosthetics look for "Ghosts" BBC TV show, and without my learning in the course, I wouldn't have been able to execute my look well. Thank you to Jo (my lecturer)!!"
Hairdressing and Make-up Artistry Lecturer Jo-Anne Hope commented: "On-May is such a lovely, naturally talented creative soul.  It has been a pleasure nurturing and guiding her through her journey over the last two years with us at West College Scotland, Clydebank campus.  I'll miss her mischievous, funny personality in class and the banter we have, but can't wait to watch her reach her industry goals, dreams and see her soar."
After fully immersing herself within the tv competition experience, On-May plans to keep on creating fantastic content in the future, to build her makeup portfolio and hopes to be on a TV/film set one day!
Tune into Wednesday's episode on BBC Three and BBC iPlayer to see On-May in action.
We wish On-May all the best for the future - whatever that may look like we're sure she'll achieve amazing things!
If you would like to meet On-May in person and have a chat about all things make-up, college and Glow-Up come along to Creative Connections on Tuesday 6th June at our Clydebank Campus between 5-8pm, where she will be appearing alongside a host of alumni and makeup brands to celebrate 30 years of Makeup Artistry at West College Scotland!
Find out more about the event and register here: https://www.westcollegescotland.ac.uk/business/creative-connection/