Compere for the event was HND Makeup Artistry student, On-May Yeung who is currently starring in BBC 3's Glow Up, searching for the next big thing in makeup artistry.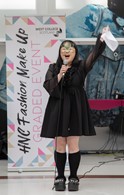 Head of Sector: Health, Wellbeing and Care, Wendy Sheridan-Price said, "''Our students focused hard work and endeavours paid off. They delivered a high quality, inspirational Graded Event. I am very proud of our students and have no doubt they will go on to achieve great things in their chosen careers going forward."
Run down of the looks
Nicole Modzelewska from Paisley, originally from Poland said, "My inspiration comes from nature. My look is called "Enchanted " and I think that suits professional makeup brand, Kryolan because they are very creative."
Speaking of her college experience so far she said,
"I love everything about my course and I want to learn more that's why next year I'm going onto my HND, and hopefully I will start working in the makeup industry, that is my biggest dream!"
Cheryl Phillips from Ardrossan took her inspiration from high street makeup brand, Maybelline. Whilst at college she enjoyed creating avant garde looks and preparing models for photoshoots, she said, "I loved learning hair and makeup techniques from both my lecturers and classmates."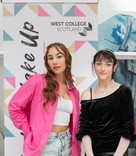 Eilidh Young from Paisley loved learning new skills at college which she says has helped develop her confidence. She said she wanted to do something a bit different for her look saying, "I wanted to create a glowy and glittery look using Fenty makeup products in ways I haven't seen them being used in actual Fenty campaigns yet".
Kylie Anderson from Paisley also took her inspiration from Fenty, particularly the Savage Fenty Show, 2019 Performance. Speaking about her time at West Kylie said,
"I have enjoyed the entire course, I have enjoyed growing my skills and developing as a Makeup Artist."
Originally from Transylvania, Claudia Elena Sandu now living in Renfrew took her inspiration from tribal makeup. She loved the final show experience; "I was able to perform doing what I love. I enjoyed so much practising different looks on different models."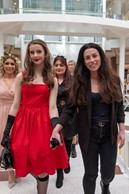 Taking her inspiration from Lavender, Moamenah Al Frouh from Glasgow enjoyed the challenge of college saying, "Everyone wants to give their best and we always get to try new things that we have not done before."
Emma Pollock from Clydebank took a fashion inspired approach getting her inspiration from Christian Dior. Speaking about what she liked best about the course she said, "I enjoyed learning new skills , trying something different, achieving my goals and meeting people!"
It was Vivienne Westwood's punk rock looks that inspired Katy Ormandy from Alexandria. She loved learning new skills at West. Angela Ross chosed PRIDE inspired look, embracing LGBTQIA in her look and equal opportunities for all. She said,
"I have loved being able express my creativity".
Samantha McQuade from Clydebank chose a festival inspired look and said "I enjoyed being creative and trying new things, I like that there are no rules to make up and there are always new trends to try!". Debbie Mackay Andre also from Clydebank took inspiration from makeup brand BPerfect choosing a Persian Gold body glow look, she said
"I love meeting new people at college and learning new skills.".
Taking inspiration from viral makeup artist @madebymitchell's career journey Toni from Clydebank said, "I love doing makeup, it has been fun to meet new people and do makeup looks." It was a classic look from Coco Chanel for Stacey Blair from Clydebank, speaking on her college experience, "Learning new skills and having the opportunity to do live events and my own photo shoots."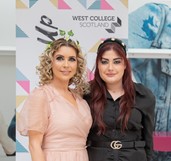 Katie Jo Donaldson from Clydebank said "Plouise was the inspiration for my look. I love her style of makeup and products. I enjoyed learning glam techniques, also really enjoyed when we went to demonstration at bperfect."
We loved all of the looks! Well done to all of the students involved.