The Turing scheme is the UK Government's programme to provide funding for international opportunities in education and training across the world, offering once-in-a-lifetime opportunities for professional and personal development for students.
The group consisted of 12 students and 2 staff from Clydebank's Motor Vehicle Department and were away for a 15 day period in May to undertake learning and work placement opportunities in Limassol, offered through our partner institution. 
The students also undertook a variety of cultural visits including the motor museum, a boat show, boat yard and an open house at a Porsche Dealership. It was an amazing opportunity for all the students and for 3 students in particular as this was their very first opportunity travelling abroad (student Stuart receiving his first flight certificate from Jet2!).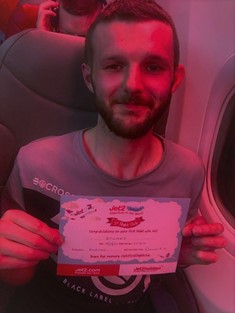 Stuart, 25 from Alexandria, spoke about his trip:
'This trip was my very first time flying so I learned a lot just about traveling and airports on top of everything else' .
Students commented on the incredible experience:
'I would definitely recommend the trip to other students, I learned so much about how they do things and I also got to try something new, like welding that we don't do at Clydebank' .
Shelby Dowall, age 20 from Clydebank, said:
'It was a great experience to visit another country and see how things compare to our course here at Clydebank' . 
The college is hoping to receive additional funding in the future so more students can enjoy amazing experiences provided by the programmes.