Gathering at the Paisley campus earlier this month, the students were joined by friends, family, lecturers, senior management and industry experts for their 'End of Year Show'. The event was a celebration of all the hard work the students had carried out over the year and recognised those who had delivered outstanding work as part of their live client projects.
With 17 project winners, 4 internships and 2 students of the year announced, there was a lot to celebrate!
Live Client Projects
Keppie Design Ltd – 'Design a Studio for an Artist'
Interior Design students were asked to design a studio for a contemporary artist using the footprint of the Keppie basement offices in West Region Street.
Winners
1st Place – Harris Sai Kwan Leung
2nd Place – Marta Stachelek
3rd Place – Jenna Foley
4th Place – Sarah Lyttle
5th Place – Lauren McCall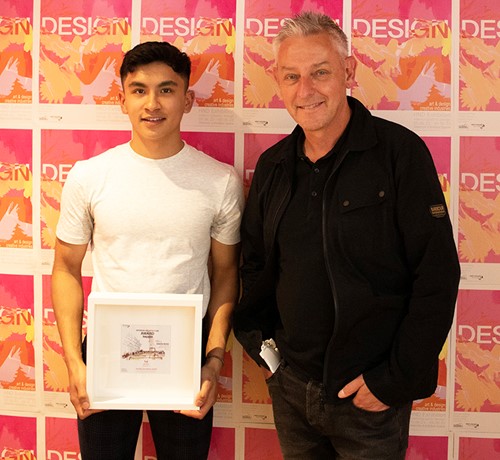 David Ross, Design Director Keppie Design Ltd, said, "I'm honoured for Keppie to be associated with such a forward-looking College. The HND Interior Design course places a focus on creativity and communication; skills which employers prioritise when recruiting.
I'm constantly inspired by the commitment and enthusiasm of the students; I am very proud of all of them and I'm certain they'll go on to have highly valued and successful careers as the designers of the future."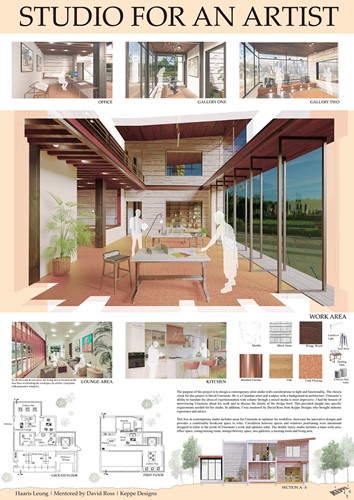 Winning design
HLM Architects – Design CoLAB
 Interior Design students were asked to design a human centred biophilic design sustainable home.
 Winners
1st Place – Haaris Sai Kwan Leung
2nd Place – Marta Stachelek
3rd Place – Lauren McCall
4th Place – Heather Agnew
5th Place – Jenna Foley
6th Place – Sarah Lyttle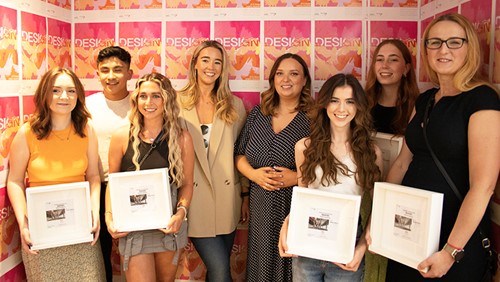 Caitlin Smith, HLM Architects Interior Designer, said, "On behalf of Caitlin and I, we would like to extend our thanks to all of the students who took part in this year's project. Every year we have seen an incredibly high standard of work from the College and this year was no exception 
we were blown away by the quality of design ideas and the commitment of the students!
 We would also like to say congratulations to our winners; Sarah, Jenna and Heather who were shortlisted this year and to Lauren in third place, Marta in second, and Haaris in first place – well done to all of you! We wish all students the best of luck in the future, and we are delighted to hear that many have been offered places at leading Universities to continue their studies! Congratulations to the HND class of 2023!"
winning design
COHESION Medical Ltd – App Graphic Design
 Graphic Design students were asked to design graphics for an app about women's health.
 Winners
1st Place – Isabella Sutherland
2nd Place – Peter Anduuru
3rd Place – Alzahraa Sharif
5th Place – Dace Florin
5th Place – Wikoria Lasecka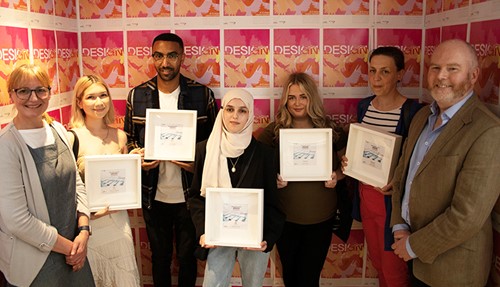 Brenda Sharp, Chief Operating Officer at COHESION said, "We were delighted to provide another live client project and return 'in person' this year to continue our long-standing successful industry partnership with West College Scotland.
It has been a pleasure to help support the students and see them progress their creative skills and grow in confidence. Fantastic end results of all the hard work and commitment of both the students and Lola in the very impressive display of the final presentation boards at the awards evening for our project on Women's Health.
'We wish the students every success in their future careers and look forward to continuing our support of students and partnership with West College Scotland in the new academic year."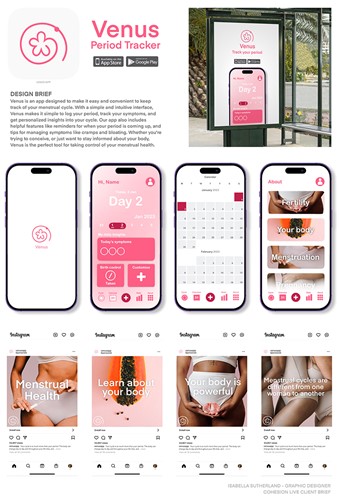 winning design
Essential Skills Internship
Two of the HND Graphic Design students were given an internship through the College Essential Skills department where they were asked to design graphic interface for the Colleges Meta Performance Tracker.
Winners of the Internship
Isabella Sutherland
Peter Anduuru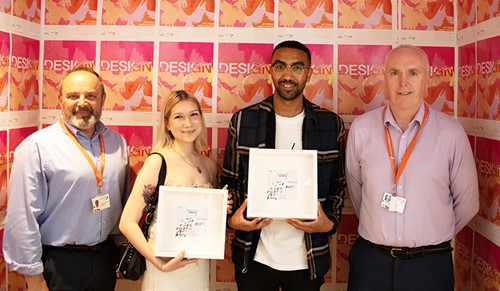 Grant Taylor, Head of Essential Skill & Enabling Services, said, ''This was the first time we have used college students and it will not be the last. We asked them to create graphics for the MPtracker portal for students to use at WCS. Their fresh perspective and innovative ideas injected a youthful vibrancy into the design process.
Their innovative ideas, coupled with their technological savvy, ensured a seamless fusion of creativity and functionality.
'Working with the college students fostered a dynamic learning environment, providing them with invaluable real-world experience. This collaborative endeavour not only empowered the students to showcase their skills but also affirmed our commitment to nurturing the next generation of design leaders in the ever-evolving realm of the creative industries."
Internship with Imaginary Friends 
Graphic Design students were asked to design a personal brand and carry out a mock application which would be considered along with their portfolio for a Junior Designer role.
Winners of the Internship
Isabella Sutherland
Wiktoria Lasecka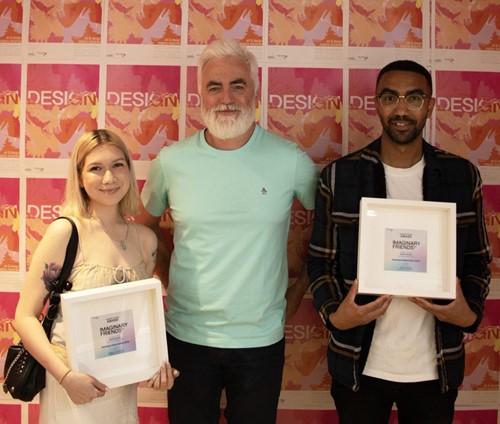 Martin Boath, Creative Director at Imaginary Friends, said, "It was lovely to be invited along and an honour to be asked to present awards to two of your students. There was a lovely, welcoming warmth to the event (not just the heat!) and the love and enthusiasm that Deborah and Billy have for creativity was so clearly evident. I particularly loved Billy's quotes. I love that sort of setting the tone for students, inspiring them and making them aware of how special and important living a creative life is and how lucky and special they are to be taking their first steps on that journey.
It was fantastic to see the students proudly (or in some cases, shyly, which was very sweet) taking their loved ones through their work. I particularly enjoyed seeing the new work which was a real step up in standard from where they were even just six months ago, which shows the continual progress and improvements the students are making.
'I'll be there again next year and look forward to working with next year's group."
Poster Design
Congratulations to HND Graphic Design student, Isabella Sutherland who won poster of the year which was used to promote the department end of year show.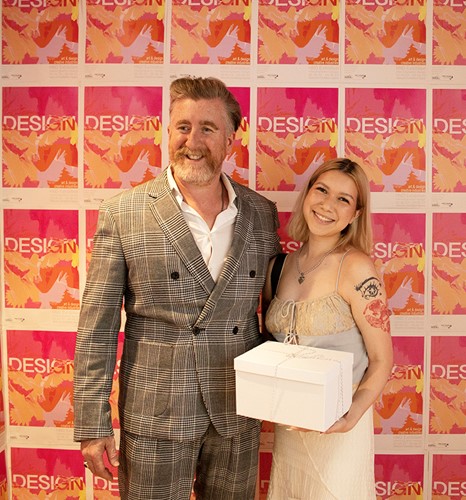 Student of the Year
Each year the lecturers come together to discuss and nominate who they think should be awarded the coveted Student of the Year prize.
HND Graphic Design Student of the Year – Peter Anduuru
HND Inrerior Desing Student of the Year – Marta Stachelek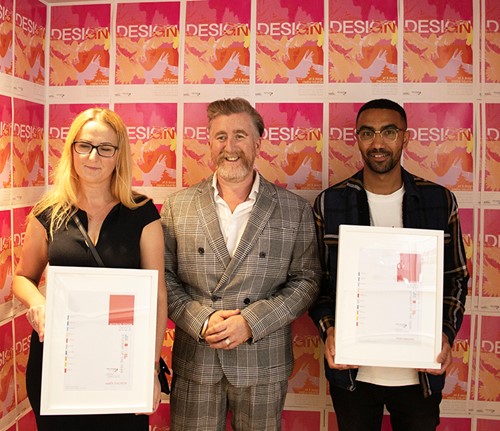 Lola Paterson, Lecturer Art and Design, said "We're delighted to award these students with this prize.
They are hardworking, reliable and beyond committed to their studies. We are extremely proud of them and look forward to seeing what the future within the Creative Industries has in store for them."
What our Lecturers and Senior Management had to say about all the fantastic work taking place across the department this year.
 Lola Paterson, Lecturer Art and Design, commented, "I think it is important that live client briefs are embedded into the HND curriculum to provide opportunity for our students to work on live client briefs which is critically important in preparing our students to become work ready. 
They are a credit to themselves, the College and to their lecturers. it is this type of client lead experience that you can only get through working for a client and it is this that is essential for us to produce work-ready students who know both what is required of them.'
 Billy Kinnear, Curriculum and Quality leader: Creative Industries, said "What a wonderful and special way to showcase the students' work, especially when they get to share with family and friends. We are so proud of our very strong and unique links with our live clients, which provides a perfect platform to grow and develop within the industry.
So proud of all the students and staff."
Angela Pignatelli, Assistant Principal: Creativity and Skills, commented, "We are so very proud of our students who have excelled in this year's Art and Design Showcase. The standard of work shows the level of their commitment to their studies and the full range of their skills development.
Immersed in live project work with industry, they are learning real life employability and subject specialist skills from professionals who are leading the way in their sector.
To all our industry partners, we are immensely grateful for your support and time which you invest in partnering with us. Thank you and all the hard-working staff team too!"