The event saw over 150 pupils take part in a range of workshops across the 3 days which aimed at highlighting the importance of healthy cooking and eating. Workshops involved mocktail, smoothie and soup  making and welcomed industry experts including Chef Paul Smith the owner of the Inn at Kippen who made fresh Granola and Raspberry Compote.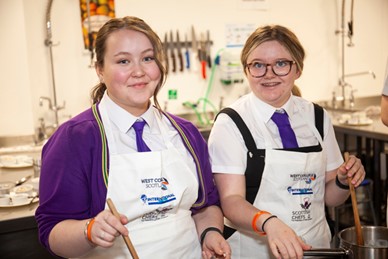 Speaking to Clydebank campus Curriculum and Quality Leader for Hospitality, Hugh McCluskey said, "It was a big step for some of the school pupils to come into college and participate in workshops, but after some encouragement and support, I could see that they all enjoyed their time with us. The staff done an amazing job of organising such a successful event."
At the Paisley campus pupils got the opportunity to utilise the Colleges outdoor kitchen pizza ovens. Purchased through funding from the Savoy Educational Trust the equipment has allowed the College to expand its learning opportunities to meet the growing need of outside catering.
Chris Watson, Hospitality Curriculum and Quality Leader at the Colleges Paisley campus, said, 
One of the highlights of the day was our outdoor pop-up Pizza bar sponsored by the Savoy Educational Trust. Our pupils prepared and cooked healthy wholemeal pizzas like roasted red pepper, grilled chicken and sun blushed tomato.
'Quite a few school pupils were asking about coming back and studying professional cookery full time, so I think it is fair to say that the day was a great success."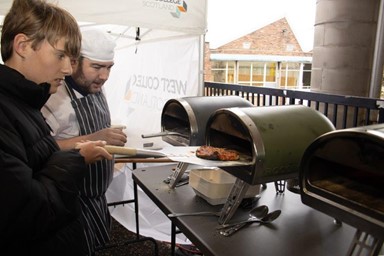 Campbell Johnston Hospitality Curriculum and Quality Leader Greenock Campus, commented, "It was great to see so many Inverclyde Schools participating again this year with engaging and enthusiastic pupils. An assortment of hands-on practical activities in our kitchens and training restaurant gave the students a brief insight into the exciting workings of the Hospitality Industry. It was very encouraging to see so much young talent attending on the day, to the extent that talks are now taking place for a possible future "Inverclyde Inter Schools Young Chef Competition" sponsored by West College Scotland Hospitality Department."
The feedback from pupils was hugely positive with many commenting on how interesting the day was, how they had a lot of fun and was an amazing experience.
Head of Hospitality, Tourism, Languages and Business, Jim McAllister commented,
We were delighted to welcome so many pupils from across the local schools to participate in the event.  It provided a fantastic opportunity for them to experience our state-of-the-art facilities, in particular our outdoor kitchen area which we believe enhances our learning and teaching approaches in allowing us to deliver a better student experience.
We hope we have inspired the next generation of top Chefs!
Check out our January start Hospitality courses.