Almost every individual knows someone who has been affected by cancer and it is directly affecting many of our colleagues right now. Curriculum Enhancement Lecturer, Janise Maxwell has experienced the work of MacMillan Cancer Support first-hand as her husband, Alan has been battling a rare form of cancer since early 2021​. Janise wanted to help raise vital funds and awareness for individuals and families in the same position and to help fight cancer.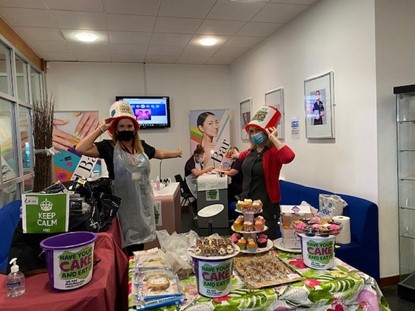 As many other colleagues are currently affected by cancer in their own lives, our fabulous Hairdressing, Makeup Artistry and Beauty Departments at Clydebank, Greenock and Paisley campuses decided to pull together to support by hosting a MacMillan Coffee Morning on Tuesday 28th September, both in their classrooms and virtually at home. The staff held bake sales full of delicious home baking, the treats trolley made stop offs around the campuses so all our staff and students could get involved. Beauty lecturer Sheena Sutherland was even up a 5am baking cakes for the stall!  
Receptionists, Dougie Carstairs, Sharon Percy and Ann Dunlop ran Bonus Ball Raffles for fantastic prizes kindly donated by the teams and our Hairdressing and Beauty students worked extremely hard offering hand and nail treatments and blow dries for a small donation. At Paisley campus, Classroom Assistant, Jung-ae Potts did an amazing job running the cake stalls. Hairdressing student, Abbie Fraser was the lucky winner of our grand raffle prize of the Cloud 9 straightener set.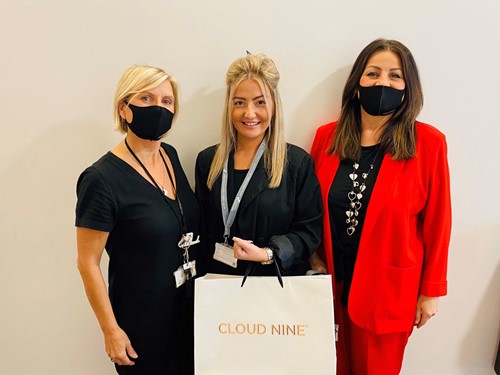 A fantastic £2802 has been raised with that number still growing! Wendy Sheridan-Price spoke of the department's efforts saying,
"As a sector our strength comes in doing whatever it takes to support each other. This has been evident in the efforts, collaboration and teamwork shown. I am so very proud of all of our staff and students and wish to thank you for supporting this truly deserving cause. Together we can achieve great things." 
Check out our video below to see what we got up to on the day!