Having had the pleasure of working with Callum's Bass player on several projects, Jamie came highly recommended, and the partnership has proven to be a big hit.
Speaking to Jamie about how the opportunity came about and the creative process behind his design, he said, "I was given the photo that would be used for the front cover and was told the sound and attitude of the album but nothing specific in terms of what they wanted for the back cover and overall direction. Instead, I was entrusted to rely on my intuition and creative instincts to determine the appropriate approach.
'I met Callum and his Manager over a coffee and remained in consistent contact with both through text and call.
It was nice to meet him; you tell he was incredibly passionate about his music and both were supportive throughout the whole process.
'It was an incredibly surreal experience for me. One aspect of my job that I particularly enjoy is the opportunity to create physical artwork, like vinyl records or merchandise.
Seeing fans of Callum holding or wearing items that I had a hand in creating is truly gratifying and serves as a constant source of motivation for me to continue producing art in a similar vein."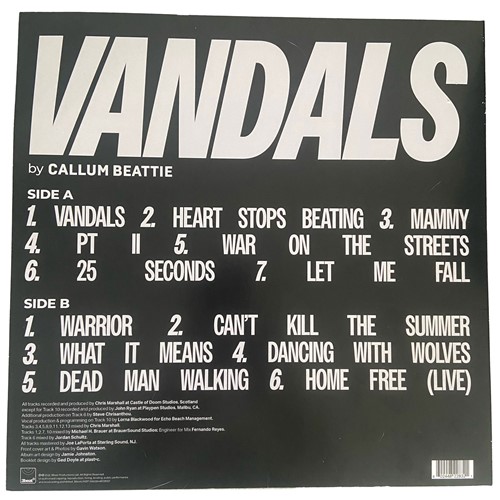 Billy Kinnear, Curriculum Quality Leader for Graphic Design at the colleges Paisley campus commented, "Jamie started a full-time Graphic Design course with us following a partnership programme between his school (Castlehead High School) and the College. It was very clear that he had a wonderful, artistic background, but wasn't sure which field he wanted to specialise in. During his 3 years at the College, studying NC/HNC and HND Graphic Design; Jamie excelled across the board, especially in his 'vinyl/album cover design'.
His work was always at a very high standard, and he received many awards for his live-client work, including Student of the Year – we are very proud to have worked with Jamie.