Joined by friends, family, and staff members the students had the opportunity to showcase their photography skills, and creative perspectives. The gallery comprises of a mix of prints including sporting, architectural, portrait, fashion, music and abstract.
Curriculum Enhancement Lecturer, Julie Cooper said, "Being able to host our photography exhibition at Braehead is a brilliant opportunity for the students to showcase their work to the public.
'It's been a bumpy ride for them, navigating their way through challenges posed by Covid, so to create such brilliant work and see it printed and displayed in this way is fantastic.
They are a special bunch of creative people, and it's been a pleasure to be part of their journey.
Curriculum Quality Leader, Billy Kinnear, commented, "I just want to say a massive thank you to everyone that came along on Thursday to support the opening of the exhibition.
As my favourite artist said, Andre Masson said, "creativity takes courage" and by showing the vision that you have your mind to the public is doing just that.
'It takes blood, sweat and tears to produce work of this standard and we are incredibly of what our students have achieved."
Photography Lecturer Angie Isac, said,
We've become like a family, and I can't wait to see what our students do next. I know it's going to be amazing!
As well as enjoying the fabulous work on display, passersby can scan the QR code to view the students' webpages, where they can find out more information about their work.
Braehead Centre Director, Peter Beagley said:
We're very impressed with the work of the photography students and I'm sure visitors to Braehead will be too when they see the exhibits.
"We're more than happy to give the students space in the mall, so they can showcase their photography skills to the many thousands of people visiting the centre while the exhibition is on."
Student Ronan Donnachie, 24 from Greenock said, "Photography is something I've always had an interest in but didn't take it further until covid hit and I thought life was too short to be stuck in a job that I didn't enjoy.
'I've grown so much in the last 2 years and to see the progress that I and everyone in the class has made is amazing.
This has been a great way to close the last two years and seeing our images displayed in full print allowing people to get the full effect in Braehead is fantastic, it's a great reward for all our hard work.
'I start Glasgow School of Art after the summer to continue my studies in Fine Art Photography."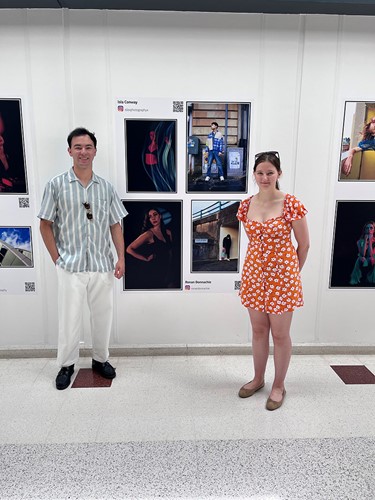 John Donnelly, 57 from Belfast, commented, "I've loved the course. Learning as much as I could has taken me to areas I'd never have considered with photography, and I've really enjoyed it.
I've had some fantastic opportunities setup by the lecturers, like working at the Davis Cup, that was a really proud moment and I'm hoping to continue working with some sports club now that I'm graduating."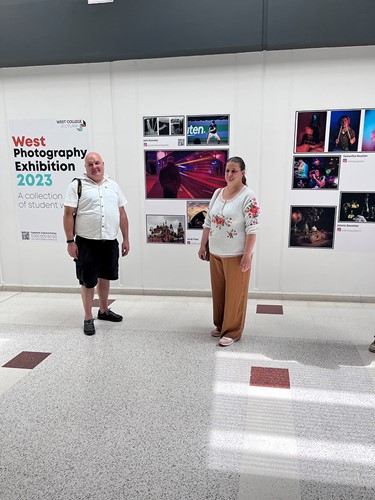 Student Shannon Grant, 20 from Erskine, said, "It's mad to see my work on display at Braehead, it feels really rewarding to see my hard work acknowledged in this way.  I's been a stressful couple of years, but all worth is.
I start Edinburgh University to do an honours degree in Photography, which I'm excited for.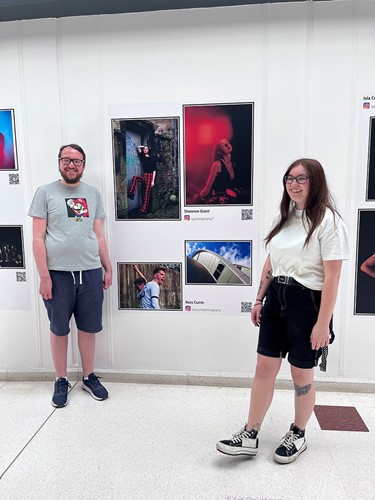 The Exhibition is on show throughout the summer and can be found on the 2nd floor corridor in-between Next and the Entertainer.