The project provided students with an opportunity to work on a live client brief, liaising with Tony and the team on design ideas whilst working under commercial time constraints, providing the full work experience. Final concepts were then presented by the studetns to the Legacy Comp team for consideration.
Tony Fitzpatrick commented,
We have been absolutely blown away by the creativity and high standard of professional work that the students have produced.
It took many conversations and many hours of deliberation, and we are delighted to award £10 credit for the Legacy Comps Website to all the students for their efforts."
1st Place - Evelyn Crow (£100 High St Vouchers) 
2nd Place  - Jordan Storrs (£50 High St Vouchers) 
3rd Place - Mariia Tkachuk (£25 High St Vouchers) 
Tony continued,
Congratulations to all!! We are now very excited to work with Evelyn and take her creative vision forward to rebrand Legacy Comps.

Design and Media Lecturer, Craig Peacock added "Live projects, like Legacy Comps Logo Design, allow the students an insight into industry standards, quality and time management, within a real-world setting. Tony from Legacy Comps and his guest presenter Jed were both open to the student's queries, and they supported the students through discursive feedback.
In all, this was a great experience for the students."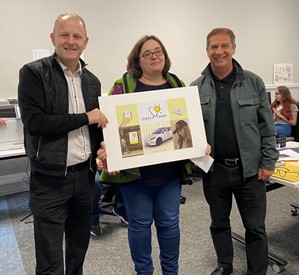 Evelyn Crow first place winner said, "Working with Legacy Comps was a very exciting and inspiring experience. I learned a lot in the process of working with clients and thanks to helpful lecturers I was able to produce a professional design. Tony Fitzpatrick from Legacy Comps created a relaxed and friendly atmosphere at the meetings and the whole experience was very encouraging.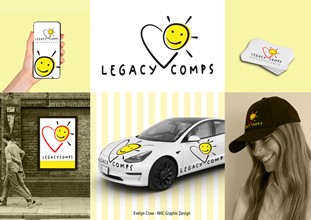 I am very proud to have won the first prize and looking forward even more to my future design projects.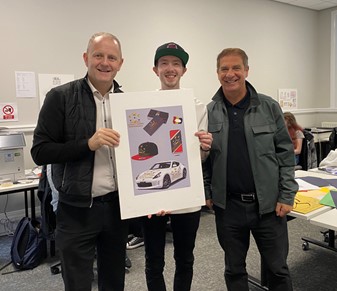 Jordan Storrs who placed second commented "It was an absolute pleasure to have a nice challenge that required a lot of thought for such a legend of Paisley on his next adventure and I appreciate having my chance to make my mark on it"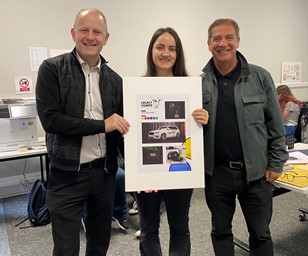 Third place winner Mariia Tkachik said, "It was interesting and at the same time a challenge to work with a real client.  Especially to come up with a logo for this type of company. It is always nice to receive praise, and even more so to win 3rd place. So, I am satisfied and happy with this new unforgettable experience."
We look forward to seeing Evelyn's design across the Legacy Comp platforms and on the road 🚗.