Our NC Police Services students were delighted to welcome back past student Police Constable, Claire Rodgers to our Greenock Waterfront campus last week to share her experience of the course and how it helped her to progress to a career with Police Scotland.
Claire who studied the 18 week course in January 2019, said studying at West College was the best thing I had ever done. She said,
"I always knew I had an interest in joining the Police and this course really brought increased my confidence.  The course was enjoyable and fully prepared me for the recruitment process."
Sharing her experience of the Police Scotland application process with the current student group she said, "You learn so much about the Police from the experienced lecturers on the course and completing it gave me the confidence and knowledge to be a successful candidate."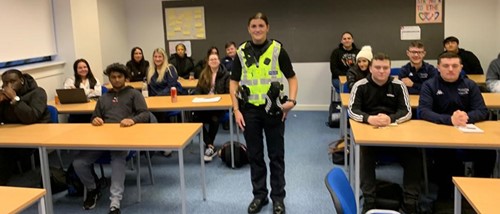 Now employed as a Police Officer at Paisley Police Office Claire said, "I would recommend the course to anyone, as it helps you prepare for the recruitment process and gives you great insight into the role and duties of a Police Officer."
Curriculum Quality Leader, Julie Greer said,
"It was great to welcome Claire back this week and hear how well she is doing.  She is an absolute credit to the course team."
She continued, "It was fantastic for our students to hear first-hand how positive Claire is about the course and how it helped her secure her dream career with Police Scotland. We are very proud of her and appreciate her sharing her experience and answering great questions from the group".
Do you fancy a future in Police Services? Check out our 18 week January Start course open now for applications.