Sagar, a fan favourite, showed incredible skill, passion and determination throughout the 5-week competition and impressed the judges (Marcus Wareing, Anna Haugh and Greg Wallace) with his Indian and Scottish fusion style of cooking. Competing against some of the best professional chefs within the country didn't seem to phase Sagar and his calm, humble character gained him high praise from the judges and viewers alike.
After moving to Scotland as a teenager from New Dehli in India, Sagar, 23, progressed at Paisley Campus of West College Scotland from his school class to level 4, 5 and then 6 Professional Cookery. Leaving with an HNC in Professional Cookery, great experiences and several highly decorated achievements.
Christopher Watson, CQL Hospitality, Paisley Campus, spoke to us about Sagar's time at West College Scotland:
"In his time with us Sagar won 'Student Chef of the Year 2017' and competed at National level winning the 'UK Seafood Student Chef of the Year 2018', surpassing some of the best colleges in the UK to win this accolade . . 
. . I knew then that we were going to have the next big industry talent on our hands.
Towards the end of his studies at West College Scotland Sagar, like other classmates, completed a period of work placement. Sagar was placed in Martin Wishart Restaurant at Loch Lomond and established a great relationship with Michelin starred chef Graeme Cheevers. Sagar has not forgotten his roots and helps out with demonstration work at West College Scotland, recently as our guest chef at the regional 'School International Chefs Day' raising awareness of healthy cooking and inspiring our new chefs of the future".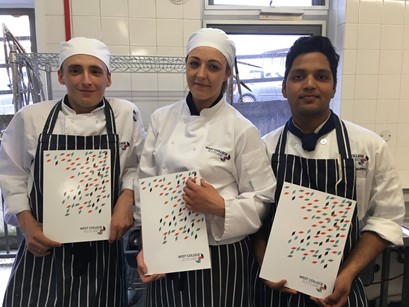 (Sagar, far right, crowned Student Chef of the Year 2017)
Jim McAllister, Head of Hospitality, Tourism, Languages and Business commented:
"Sagar was an outstanding student who came directly to college from our schools class.
From this early stage we could see his potential to become a great chef and his willingness to learn and gain experiences was irrepressible.
Within our Hospitality team we are hugely grateful to have assisted in his talent and skills development and wish him every success for his bright future".
Although Sagar didn't win the competition (fellow contestant Nikita took home the trophy) he certainly made an impact as a rising star within the industry - judges, critics and highly esteemed chefs all praised Sagar for his natural skill, work ethic and creative flair.
From everyone here at West College Scotland we would like to say how incredibly proud we are of Sagar and cannot wait to see what your future holds!