"3 years ago, we started the WCS Motorsport Academy, it's always been a belief of our that you start with the most exciting thing in the industry and work back from there. The most exciting thing in our industry is motorsport. So we started off with our green power race carts; the students built these single seat race cars and we took them to Edinburgh to race them for position."
"On the back of that, we looked at the Citreon C1 Cup. C1 Cup's run on the SMRC race season and it's the entry level racing at that event. We built these cars in the workshop between the SVQ's (Modern Apprentices) and the full time students. They built them to the spec they need to be raced at."
"We used an old bus the College was scrapping and converted it into the Motorsport team bus – fitted with tools & equipment for race days as well as seats to transport students to motoring events. On that basis, the students have been at the heart of the Motorsport Academy."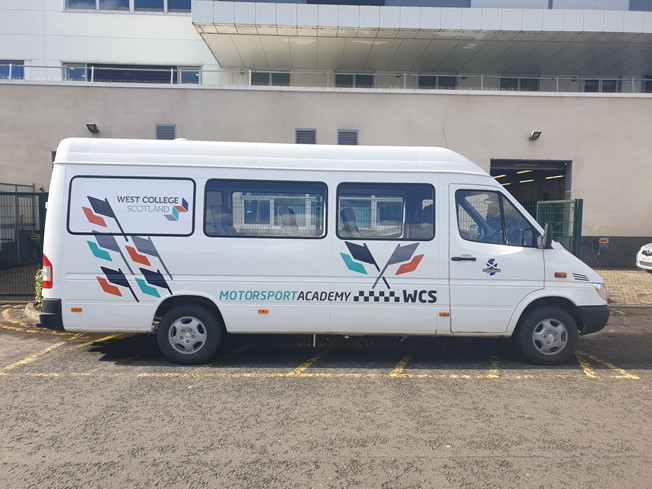 "We have been able to deliver employability skills outwith the limits of the workshop such as social interactions, marketing & livery application to name a few. It's also got them outside of education. I don't believe education begins on Monday and ends on Friday. We've had them out at the weekends, up at knockhill, in their own time."
Stephen Craig, Lecturer for Motor Vehicle, believes the program has been beneficial for everyone involved, saying:
"It has certainly been a great attraction for the MA's and employers have certainly been more than impressed. We've been working at all levels with the cars so that everyone is getting a shot. The project combines theory and college based work with real life experience that is hard to replicate."
"We want to reinforce the teamwork element of the course and, as an extension, the sport itself. We feel that having programs like this are the perfect way for the MA's to get the real  world experience they signed up for as it's not easy to replicate such things purely within the workshop. They'll get to apply numeracy skills – not often found in a lot of work places"
To discover what's on offer at WCS, visit our website