The Green Fingers Garden was officially opened today by Angela Pignatelli, Assistant Principal Creativity & Skills and Paul Martin, Head of Sector for Learner Development.
After receiving funding from the Grow Wild Project based at the Royal Botanical Gardens, Kew, the garden was built and cultivated by the Learner Development students who developed the area on a brownfield site of a demolished building.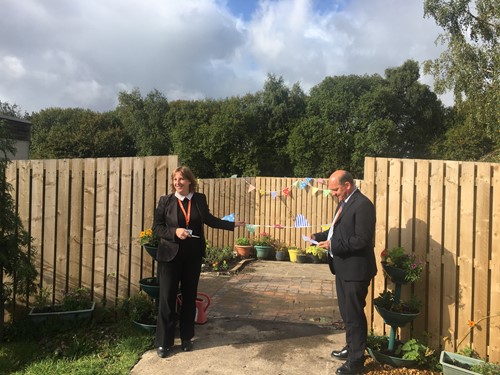 Irene McDermott the lecturer in charge of delivering the Garden project said "After months of clearing all types of rubble and digging areas for planting we began to see the results of our efforts.  We were especially proud and excited about the development of our wildflower area with its spectacular display of colour. 
'Our vegetable beds have been cultivated to help connect people to the food they eat by learning how to grow things that can be harvested and cooked as part of a healthy eating strategy.
At the moment the most popular feature is our giant pumpkin which will be our centre piece for Halloween. 
Angela Pignatelli Assistant Principal commented " Everybody has worked absolute wonders in achieving this. The drive, hard work and commitment of students and staff is here for all to see.
This is an example of something special as regards cross college working, health & well being and the college-of -the future approach. Well done to everybody!.
Paul Martin, Head of Sector added "A big thank you to all the carers and staff involved in the Green Fingers Group who worked so hard to make this happen. Thank you to Andy Corbett (Curriculum Quality leader for Construction) and his joinery students for the construction of our first raised bed. We would also like to thank Peter Thorn (Estates Manager) for organizing for us to have the piece of land to develop".