It was celebrations all round last month for West College Scotland and Mirren Park School and Inverclyde Academy who were delighted to see their Raffety Racing & Inver Racers Race Team take home top awards at the East Fortune Greenpower Race.  The teams were two of seven local race teams who were supported by West College Scotland & Developing Young Workforce West Region as part of this innovative initiative which relies on local business support to help fund essentials such as race day entry & costs plus kart improvements. The Greenpower Challenge sees teams come together to build and race their very own Formula 24 Race cart. The teams are also required to secure sponsorship and raise funds in order to help them get to the Race.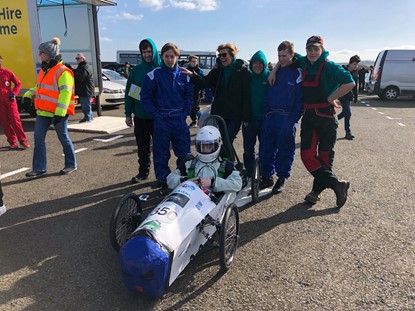 This exciting event which took place on Friday 29th March in East Fortune, Lothian saw an overwhelming 50+ students competing amongst 24 teams from all over Scotland.    West College Scotland had the biggest representation from all the colleges on the day, the students all had a great day and worked as a team to compete in two races, which tested their skills in engineering, team work, strategies and team tactics.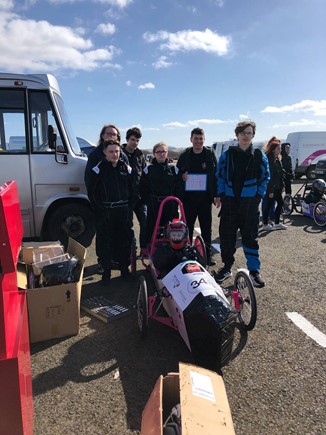 On the day, West College Scotland were delighted to place with two winners, Raffety Racing from Mirren Park School from the Paisley campus won Best-Presented team on for their professionalism and presentation and the Inver Racers team of Inverclyde Academy from the Greenock Campus who scooped the top prize placing overall winners, coming first in the Kit Car category and finishing 1st in both races against teams from all over Scotland.   The team are now sitting first in the Scottish leader board and their performance has earned them a place in the International final at Silverstone.
Colin McLaughlin, Lecturer at West College Scotland and leader on the Greenpower project spoke of the teams success saying, "We have watched the programme almost double in size and it was with great delight I have watched two of our teams representing the College achieving in this highly competitive forum."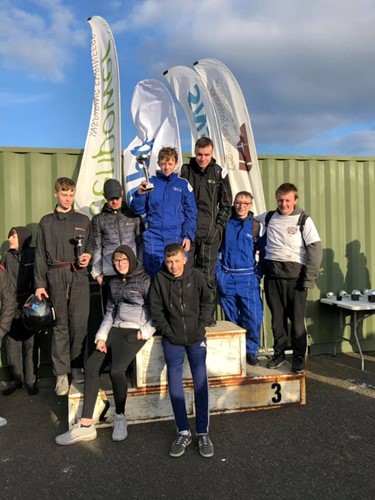 He continued,
"Having watched this from its humble beginnings, I was beaming with pride at all our teams on the day.  Thanks to the College for facilitating this amazing project and thanks again to DYW West for helping to fund and support every step of the way"  
Bob Davidson, DYW West Programme Director highlighted the support the project has received from the local business community and it's impact on those involved,
"Big thanks to all the organisations that support the Greenpower programme in the wider West region. This fantastic initiative has grown from a fantastic motor vehicle focused learning experience to a potentially life changing opportunity where young people are learning real life skills that employers want.
He continued, "On the back of our partnership several other college regions are looking to kick start Greenpower with their local DYW group, which is great to see"