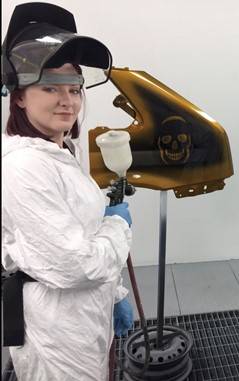 Still celebrating the fantastic news that she has been offered a role with Naval Ships giant, BAE Systems, Motor Vehicle student Heather Scullion, has been sharing her experience of the industry and her time at College. She is currently studying Level 3 body repair and refinishing 2018/2019 at our Greenock campus.
Having grown up in Milton Keynes, Heather moved to Scotland in her late teens and has loved being able to get her hands dirty, working on cars!
Heather said, "I chose this course because I'm a very practical being, I love creating things and getting my hands dirty when I can. I'm also really into cars so I joined because I would have loved to work on cars and I found out I do when I started the course.
Although she didn't really have any expectations of the course, Heather knew it wasn't going to be easy. She got on with the tasks I was set and completed them safely and efficiently, but she also got to enjoying the work she was doing, got on well with her classmates and learned about new things. She said,
"My experience with the college was fantastic, while learning about cars and refinishing, I get on great with my class mates which is a bonus and I also get on well with my tutors Michael and Ryan as they've both helped me with any problems I have faced and helped me achieve my course."
Her ambition was to secure a job and the College are delighted to share in Heather's success having recently found out that she have been offered a job with BAE Systems, which involves spray painting of naval ships.
Heather champions the industry for females and feels that It's no different for her than for a male. She said,
"I see myself as capable as my fellow classmates. In my opinion is that anyone can do it, whether you're male or female doesn't make you any different and it certainly hasn't stopped me wanting to pursue a career in engineering. The college course has been fantastic every step of the way and I have enjoyed every moment and would do it again if I could."
On behalf of everyone at WCS we would like to congratulate Heather on her successful job application and wish her all the best for the future.
If you would like to get into a career in Motor Vehicle APPLY NOW for August 2019 by visiting:
https://www.westcollegescotland.ac.uk/courses/course-directory/courses/motor-vehicle