For the sixth year in a row, our HND Interior Design Students have been mentored by David Ross, Director of Keppie Design Ltd.
David's brief this year was simple - students were to create 'an artist studio' for a contemporary artist or sculptor, whose work and practice makes use of natural light. Students were encouraged to engage with their chosen artist and they get the opportunity to apply the skills they've acquired in college to meet real-world business needs.
After this year's project David invited three shortlisted HND Interior design students to Keppie 'BEST PRACTICE EVENING' on Friday 7 June 2019. In-front of 40+ Architects and Designers, students Lewis McKechnie, Megan Hutchison and Kike Pawlik  presented their 'Studio for an Artist' final design solutions.
David Ross,  Director Keppie Design Ltd said, 'I have been a mentor for the West College Scotland HND Interior Design course since 2013. The Keppie Project - which poses a live client brief to develop a proposal for an artist's studio - has delivered many fantastic responses over this period. But every year, the quality, enthusiasm and passionate commitment from the students increases. I believe this is a result of the dedication of the WCS teaching staff to external collaboration and employer partnership.  As a result, the growing reputation of the course is attracting great students, and delivering pathways to higher education or to direct employment.
Live client projects are an essential way of teaching the design and communication skills that employers seek, and WCS are at the very forefront of that necessary shift in further education. It's an honour for me to continue to represent Keppie in this hugely rewarding initiative."
Lola Paterson, WCS Lecturer Interior/Graphic Design added, ' This was an amazing experience for Kike, Lewis and Megan to present their final design solutions to professional Architects and Designers. All three were a credit to West College Scotland they conducted themselves with the highest standard of professionalism under a pressured environment. Thank you to David Ross for opening up great opportunities for HND Interior Designers. Students and staff gain amazing knowledge on the night from a special presentation specifically on Building Information Modelling.'
Angela Pignatelli,  Assistant Principal for Creative Industries commented, 'We were honoured to be invited as the input to Keppie Architects' Best Practice event. Our joint partnership working goes from strength to strength and we are acutely aware that we are able to gain a valuable insight into the demands of industry through this partnership working. This better prepares us, as educators, for delivering a curriculum which is relevant, connected and of the highest quality to ensure better employment prospects for our graduates. We cannot thank Keppie, in particular Director David Ross, for the support, enthusiasm and commitment to our joint working.'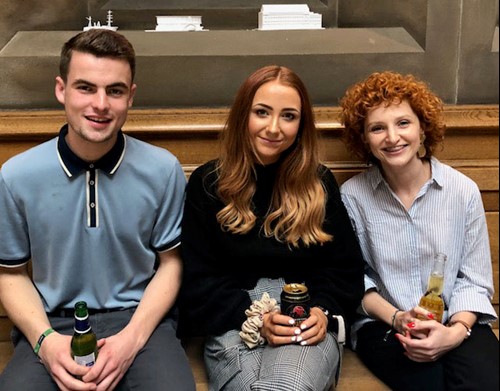 Pictured (L-R):  Lewis McKechnie, Megan Hutchison, Kike Pawlik
To be invited to present your work in front of anyone is a privilege, but on Friday 7th June I was stunned when that "anyone" became the employees of Keppie Design. The experience that David Ross has given me will be one that will resonate for years to come. Knowing that David had asked myself to come along and present my work in front of his colleagues brought a great sense of personal pride that will drive me to continue this success within my further education. I would like to thank David for this invaluable opportunity and I am humbled that It was myself who was offered such an experience. **Lewis McKechnie**
Two years ago, I was stuck with no idea what to do with my future, today I've just stood in front of 20+ architects and designers in a practice in Glasgow Keppie Design Ltd who run million-pound projects and presented my own project 'Studio for an Artist' mentor David Ross. It's been some week, but I am so excited for what the future brings. For this project, I achieved 1st place which is the biggest achievement within my creative career so far, giving me confidence and assured me that I am going in the right direction. Now I have completed my HND, I will now be going to Duncan of Jordanstone in September joining 2nd year BA (Hons) Interior and Environmental Design- with a view to going on to graduate and complete either a masters or postgraduate within design. **Megan Hutchison**
It was a privilege to be invited by David Ross, director of Keppie Design Ltd, to do a studio for an artist presentation on Friday 7th of June. It was a quite different experience to do a talk in front of architects and designers in an environment of architect's office. It adds a significant feeling to the project I have created. It is just amazing that my work has been recognized. It was such an inspiring evening. I feel honoured to be part of that event and idea to present to us, students, the way how the industry looks like and what possibilities are there for our future it gave me a lot of fresh ideas and determination to stay on track and continue my education path. I am extremely grateful for that opportunity, thank you very much. **Kike Pawlik**