A talented photographer, Natalia had the opportunity to be involved in a studio shoot with MrdB after winning a college photo competition where she entered various portraits and submitted her concept for a studio-based group photoshoot.
Natalia commented:
"We had a great time during the shoot, and it was an enjoyable experience working with a group of friends."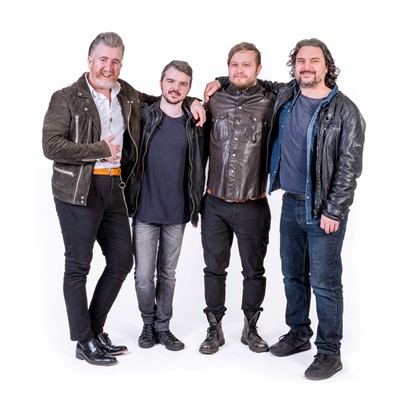 Following on from her experience with MrdB Natalia worked with another local band, Brownbear where she had the fantastic opportunity to photograph their live performance at Saint Luke's in Glasgow during the launch show for their highly anticipated second album.
"This experience allowed me to test my skills in low light conditions and capture the energy of their performance, further expanding my portfolio. It was pure pleasure to photograph the band in their 'natural environment'."
The fact that this is Natalia's first-time photographing live bands didn't stop her from getting stuck-in and making a big impact within the industry – and will now confidently take on similar projects in the future.
Studying at Paisley campus, Natalia credits the course and own work-ethic for gaining new skills and hands-on experience, which she hopes to continue developing in the future working within the photography industry:
"The college course is one of the steps I have taken to become a professional photographer. However, I must emphasise that we learn the most on our own, and it is important to practice photography outside of class as well. Before starting the course at the college, I was self-taught. Even now, I try to develop the skills that interest me outside of college classes. It is also crucial to become familiar with the camera you're working with, which comes with practice. While I'm quite comfortable working on location with my camera, I don't have my own studio or even any space to create one. The college studio practice has allowed me to become more familiar with studio equipment and techniques, which has been very helpful.
As a photography student, I also get to know other people involved in the field. Building connections with people is a vital aspect of being a photographer. In conclusion, the combination of being self-taught and a student enriches my portfolio, and I hope this will help me in the future."
If you would like to see more of Natalia's work, visit her website: https://natalia.photo/work or Instagram page: natalia.aronowicz.