The brief stated that students should explore diversity within the business and employees that use workwear i.e. hospitality, construction and healthcare etc. It was hoped that the designs would communicate and explore culture diversity and would break the gender stereotypes association with what is traditional perceived as a 'workwear wearer'.
The students got to work using the last ten weeks to research and develop concepts for the brief, concentrating on colour theory and looking at POP art as inspiration.  
Welcoming Workwear Made Easy, Managing Director, Colin Hill and Business Development, Margaret McGregor Oliver on to campus on Tuesday 14 March the students pitched their ideas.
Colin Hill, commented, "The level and quality of the work presented was of high standard.
Considering this is the first course for most of these students I was very impressed with their enthusiasm and commitment to the challenge.
'All local employers should be looking in this direction for new staff who will help with their digital strategy. Some were nervous and some were confident, which is understandable, but crucially they were engaged.
I've thoroughly enjoyed this project and it won't be the last time I partner with West College.
Mural Prize Winners
Harini Jagadeesan and Benn McColl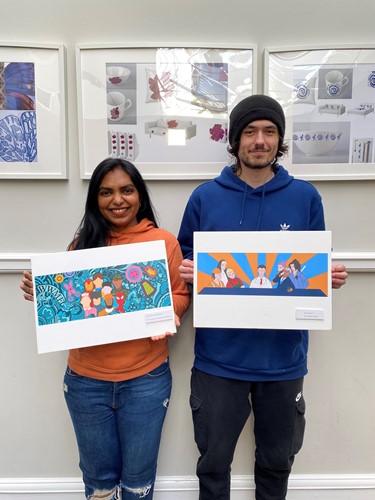 Benn McColl said, "I'm very grateful to have had my concept chosen. Working with a real client has given me great experience that I can bring into future projects and the confidence to continue creating for others."
Harini Jagadeesan said. "Any time you put in your work is always a fruit for now or in future. So glad that my hard work paid off.
Glad to be in the lovely team with absolutely supportive lecturers who helped us achieve the success in our project with their proper guidance.
We have learnt a lot in the process from the start to finish of the project. And the experience we got from the live clients help us so much about how things work in professional world in work environment. Absolutely enjoyed every bit of the project."
Workwear Concept Prize
Robbie Hudson, Daniel Barton and Brian Wallace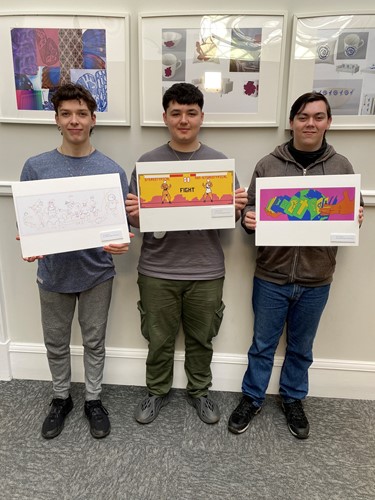 Robbie Hudson commented, "I really liked working on this live project and learning about different types of workwear and finding out what Workwear Made Easy do.This project has helped me a lot within my own personal project for block three and has made it easier and quicker for me to do as I now confidently know what to do through mind-maps research and more.
Daniel Barton, commented, "I was taken by surprise when I realised that my work was chosen, I am very grateful and hope that I can do more work like this in the future."
Brian Wallace, said,
I didn't expect that I would get an amazing opportunity like this one so I am honoured to have this opportunity happen before my very eyes.
The prize winners have received  generous cash prizes for their efforts and Workwear Made Easy look forward to developing their concepts in the future
The students impressed the clients so much that EVERY student has been given the opportunity to put part of their artwork onto a MUG, T-SHIRT or COASTER. An ideal way to showcase their talents further.