An ongoing partnership this coloration provides students with an invaluable integration into the curriculum, giving them hands-on industry experience and allows them to use equipment otherwise unavailable to them and the College.
Art and Design Lecturer, Ian McPherson tells us more, "Glasgow Print Studio is a long-established gallery and workshop used by the professional visual art community and provides our students with insight into vocational post-art school experience plus additional first-rate specialist tuition in the process. 
It's a hugely motivational portfolio supplement that allows for experience in processes such as etching and large-scale woodblock printing.   
'We were one of the first educational groups to use the facility during the lifting/easing of Covid restrictions this year.  The students absolutely loved it; such a strong, relevant and valuable link."
Speaking to the students about their experience, Stephen O'Connell, "Going to Glasgow Print Studio was honestly the biggest change to my work and helped me so much in printing.
I'm so glad I got the opportunity to go as it's helped me develop so much more and has helped me discover what I want to pursue in art. If I get the chance again, I'll absolutely be taking the opportunity.
Allister Burns, said, " Really positive experience, the studio is a great environment and the folks running it were great, really knowledgeable and enthusiastic about the whole process."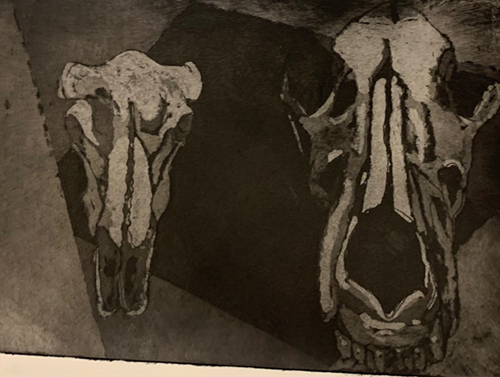 Toni Spencer said, "I was given the opportunity to attend workshops at the Glasgow Print Studio (A1 Woodblock printing workshops, and a two-day workshop in Etching) and thoroughly enjoyed all of the sessions. The tutors were friendly, helpful and professional.
Getting to use and learn how to operate the equipment was really good, and I really hope to be able to use those skills in future."
Sarah Stewart, Education Officer at Glasgow Print Studio, commented, "The students gain invaluable experience using specialist printmaking equipment within our fine art printmaking workshop. They benefit from our highly skilled printmaking technicians who take them step by step through different print processes, making the learning experience relevant and engaging. They are able to immerse themselves within the workshop environment and gain first-hand, experience of printmaking as a career path.
Over the years, I have witnessed the students' confidence and skill levels increase as a result of their visits and, always look forward to seeing what ideas and artwork they bring along to be developed through the print process.
Student Ellie Finnie, said, "The Print Studio was a great success, I learned many new techniques such as etching, something I had never tried before and now feel confident in the etching process.
'The Instructors were very good, and I also enjoyed the woodblock workshop.  Creating developments in my work through printing was very interesting and I would definitely recommend it to others taking the HNC Fine Art course."