The Deputy First Minister, John Swinney, visited West College Scotland's Greenock campus to congratulate a group of Greenock schoolboys as they prepare to conquer the world of motor racing!
 The four boys from Inverclyde Academy built their own F24 competition race cart which won the Scottish heat of the Greenpower Challenge earlier this year.  They will now travel to Silverstone, the home of British motor racing, in October to fly the flag for Scotland against the rest of the world.
 Mr Swinney, who is also Cabinet Secretary for Education and Skills, met the team at the College's Motor Vehicle workshop, where they worked with lecturers and the Developing the Young Workforce (West) team.
 The boys told the Deputy First Minister of their remarkable success and spoke about how they went about creating the cart.  Afterwards, Mr Swinney said:
 "My congratulations to the four pupils on making it to Silverstone with their cart, following in the tyre tracks of great Scottish racers like Jackie Stewart and David Coulthard before them.
 

Inver Racers is a prime example of how Developing the Young Workforce (DYW) supports partnerships between schools and colleges to give young people the chance to broaden their horizons and gain real-world engineering skills which they can apply in the world of work.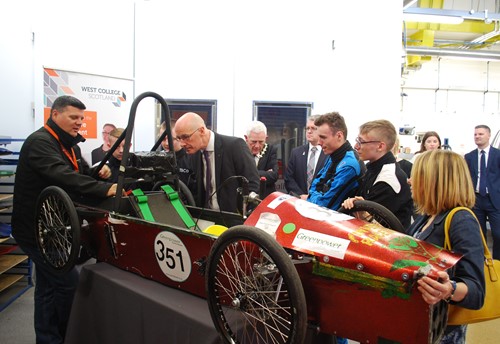 West College Scotland Principal, Liz Connolly, who welcomed Mr Swinney to the Finnart St campus, said:
 "This shows how, with imagination and determination, young people can be engaged in engineering and other STEM subjects and have fun while learning.  I have no doubt this experience will allow the boys to take the fast track to a career in engineering, construction or another STEM subject.
 

I must thank our staff at Greenock, who have mentored, encouraged and supported them throughout, even giving up their evenings and weekends to help secure the success of the Inver Racers.
 Mr Swinney had been invited to meet the boys by local MSP Stuart McMillan, who said:
 "The Inver Racers' passion for this project is plain to see, and they have done tremendously well to be named Scottish champions. That is why I wanted to highlight this brilliant initiative to the Scottish Government, and why I invited the Deputy First Minister.
 "The boys appear more confident as a result of learning engineering skills and putting them into practice by building, operating and maintaining their F24 racecar. I hope that more schools locally will consider getting involved with similar programmes, because its unique opportunities like this that can open young peoples' eyes to the wide range of career paths available to them.
 "I'm grateful to the Deputy FM for visiting Inverclyde to meet the Inver Racers, and wish them well at Silverstone in October."
 Sabrina McCready, Depute Head Teacher at Inverclyde Academy, commented:
 "Greenpower has been a transformative experience for these four young people. In the past year, they have increased their problem solving and critical thinking skills, as well as their ability to work independently. However, it is the increase in confidence that has been most striking.
 "All four of the boys were quiet and hard-working in school, but now they are confidently engaging with adults and other young people at local and national level. Meeting the Mr Swinney is the icing on the cake. They've had support from as far away as the US.  This inspiring STEM project will massively improve their future prospects as they navigate the ever-changing world of modern employment.
 "The Inverclyde Academy community are incredibly proud of all they have achieved."
 Bob Davidson, Programme Director for DYW West Region, said:
 

We are delighted that the Deputy First Minister met the Inver Racers Greenpower team. The pupils have done really well in the programme, cementing their place at the International Final at Silverstone.
 "Delivered by the College's motor vehicle and engineering team, the Greenpower programme continues to go from strength to strength, with new teams for 2019-20 just getting started.
 "DYW West will help them develop their employability skills and provide opportunities for teams to get in front of business people to help with PR and fundraising. Greenpower is making an impact and changing young peoples' lives for the better, helping them gain access to courses and jobs that they might not otherwise have been able to without the experience and personal growth the Greenpower programme can deliver."
Over the 2019-20 academic year, the Inver Racers team will attend West College Scotland for a vocational Car Body Repair course, alongside their schoolwork.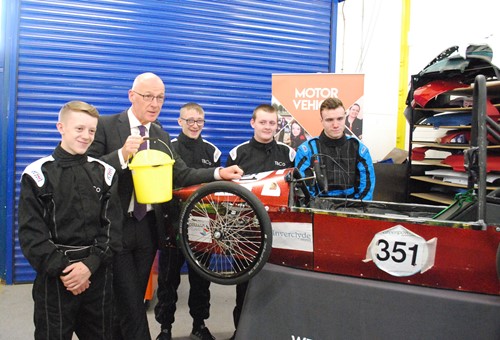 The Inver Racers are still fundraising for their trip, click here to make a donation.