The trip which marked the final trip of the programme, provided students with the opportunity to gain work experience overseas in one of the cities four-star hotels, Scandic Tampere City Hotel. The two-week placement saw the students receive hands-on experience, working in the hotel's restaurant, both in front of house and in the kitchen.
Accompanying the students on the trip was Hospitality Curriculum and Quality Leader, Chris Watson, who said, "This trip provided a fantastic educational and cultural experience for both the students and me.
Their 'Tech school' was terrific and a real eye opener from a teaching point of view as it's a very different set up to what we are used to in Scotland.
'The students settled into their placement really well and I could see how much they were learning and how much enjoyment they got from working and learning in a different country for the first time.
'Since the students returned to Glasgow, I have noticed a difference in their confidence when working in the training restaurant proving that the trips are a real benefit to them."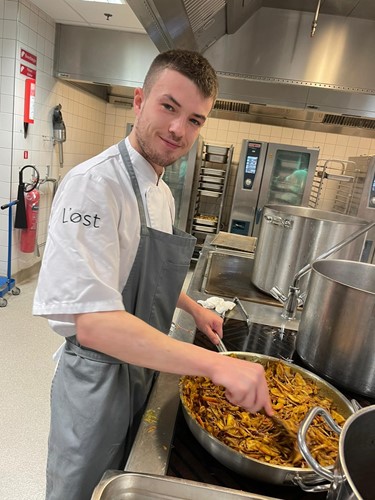 Speaking to the students about their trip they were unanimous in commenting on what a positive experience they had, and how it hugely benefited their knowledge, understanding and practical skills within Hospitality.
Student comments,
 I have improved my technical/professional skills and competencies.
The best experience was working night shifts at the restaurant, this allowed me to make and serve food in front of customers and hone my skills while improving in speed.
I believe my chances to get a new or better job have increased.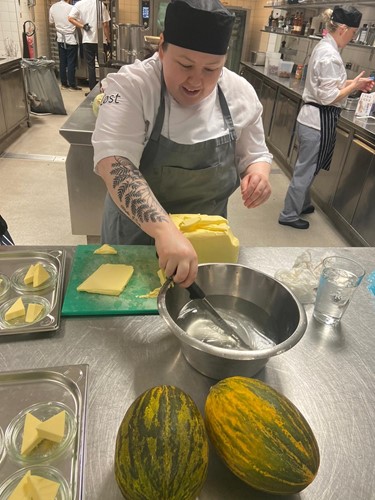 Gillian Gray, Development and Funding Executive, said, "The Demark trip marked the first student trip since travel restriction were imposed in March 2020 due to Covid19.
Opportunities like this provide a fantastic way for the College to add value to our skills and learning provision and in addition to the learning benefits are often the only opportunity our students have to travel overseas and experience other cultures.
'Whilst this was our last Erasmus funded trip due to Brexit the College is delighted to have been successful in securing funding from the Turing Scheme to support students cis, placements and learning in 2023."