West Dunbartonshire Council Arts & Heritage Service`s collaboration with West College Scotland`s Clydebank Art & Design Department offers students a unique opportunity to investigate local heritage, design for cultural venues and gain valuable practical experience.
 Speaking to Art and Design lecturer, Catherine Campbell about the project she said, "Working with Trish Robins and the team at West Dunbartonshire on the partnered projects, the most recent being the Dalmuir Gallery Project means that the students and staff have a refreshing and active 'live' brief to fulfil for an external client.
Trish and her team are great at listening and responding to student proposals at the beginning of the project and then giving really thorough and valuable feedback to each student on their final designs.
'A true taste of a professional project."
Trish Robins WDC Lead Officer Arts Development & Exhibitions said "The Dalmuir Gallery project this year produced high quality, professional and imaginative work.
The skill, creativity and interest shown by the students never fails to impress!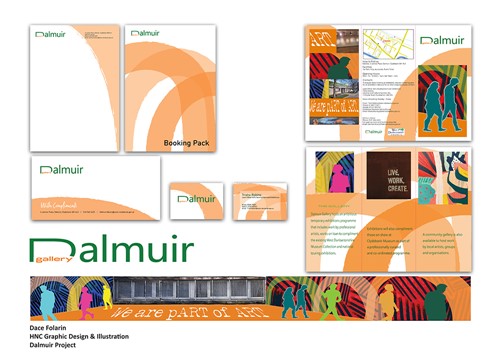 Student Dace Folarin, commented, "It was amazing experience to have real client for Dalmuir Gallery for West Dunbartonshire Council.
I don't have to imagine how it would be working on professional projects in the future, I feel confident that I now have valuable experience.