How do I apply for funding?
First of all,  the Student Funding Department will ask you for information (following government policy criteria of funds) to ensure you are assessed for the maximum funds available to you, fairly and equally.  
It is necessary for you to complete the Online Student Funding Application** if you are intending to study on a full time basis, as all funds are limited and allocated on a first-come first-served basis.  The Student Advisory Service Teams will be able to assist those students who require general help with completing their online application for funding or for scanning the required documentation to have your application assessed for funding.
** Online Student Funding Applications are now open and being assessed.  Please check your emails for your invitation to apply, once you have accepted your place on a course.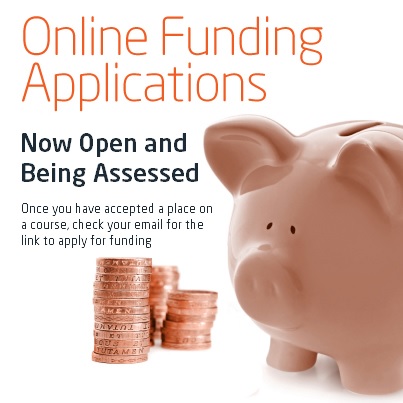 Students who require an in-depth one-to-one appointment regarding their funding application can make an appointment through the Student Funding Helpdesk.
Student Funding Department
Please do not hesitate to contact the Student Funding Department should you require any further information or assistance.
Address :
Student Funding Department
West College Scotland
Greenock Campus - Newton Suite
Finnart Street
Greenock
P16 8HF
Telephone 01475 553150 (08.50am to 16.45pm Mon-Thu and 08.50am to 15.25pm Fri)
E-mail studentfunding@wcs.ac.uk
Student Funding Helpdesks for quick enquiries are located at each campus (Paisley, Clydebank and Greenock) within the Finance Office.  The helpdesks are open for enquiries between 10am and 1pm.
For a one-to-one appointment with a member of the Student Funding Team, please email your request to the above email address ensuring to state in the subject field of your email the campus you will be attending and clearly state the detail of your enquiry.
Important Information:
You are advised to budget your money for coming to college as generally the college pays first installments of awarded funds 3 weeks after courses have begun pending satisfactory reports of attendance, conduct and full engagement on your course has been achieved and all required documentation for your funding application has been submitted.
Travel expenses, if eligible, will be paid two weeks in advance direct to the students bank account upon receipt of a fully completed acceptance form which cannot be submitted until on/after the first official start date of any course.  This payment will not be made until the end of the first attendance week at college and fortnightly thereafter.  Attendance will be check retrospectively for payment of travel and will not be released where attendance does not meet the minimum requirement in each week.  Part payment for part engagement of any week will not be made.
Expenses paid towards travel and accommodation costs may not always cover the full cost as awards are offered as assistance towards the cost of these expenses and not intended to cover the full cost.  Childcare provision can only be awarded up to a maximum of £7000 per eligible student and may not cover the full cost.
All applications for funding will be dealt with in date order from the last date the final documentation requested was received.  Applications can take a minimum of 4 weeks to assess and process awards, and may take longer in busy periods, therefore it is essential that students do not delay in submitting the required documentation to support their online applications for funding.
It is advised that students' who wish to have their funding in place PRIOR to commencing their course should have their online funding applications complete and all supporting documents submitted by close of business on 29th July 2018. Students' will have a maximum of 6 weeks from the official start date of their course to apply and submit all required documentation in order to have their award backdated to the date they started their course.  Applications submitted after the 6 weeks from start date of course will be assessed on the date the fully completed application and final required documentation was received.