Paving the way for a brighter future, thirty-six year old Steven McFadyen from Paisley decided to return to education to enhance his skillset. After successfully completing his HNC in Applied Science, Steven is now reaping the rewards and is well on his way to a promising career with Thermo Fisher Scientific - which also lead him to win the 2015 Renfrewshire Apprentice of the Year Award.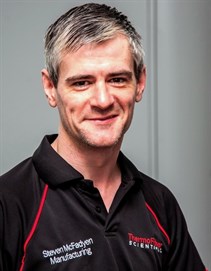 Having worked as a professional chef for almost 12 years, Steven was ready for a career change; a career that would allow him to develop new skills.
Gaining employment as an Associate Manufacturing Technician for Life Technologies was what initially sparked Steven's interest in science.
Steven said, "I wasn't particularly interested in science at school and I certainly hadn't studied it at higher level so I'd had no real exposure to it until I started working at Life Technologies.
"Working for a company like Life Technologies where you are producing products that can help improve and change people life's is empowering and fascinating which is why I think I wasn't content just to go in and do my job and leave at the end of day – I wanted to find out the reasoning and the science behind it all."
Having settled in to his new role, Steven took the initiative and approached his manager about gaining a science qualification at college.
"I initially embarked on a Level 2 Modern Apprenticeship in Life Sciences which combined on the job assessment in the workplace with a NPA in Laboratory Science day release at college. Despite not having any background in science I managed to cope with the NPA course. It did however get more difficult when I progressed to the Level 3 MA with the underpinning HNC in Applied Science. The biggest challenge was the fact that I was doing it on my own time, which meant juggling full-time work, study, family life - which is pretty hectic with four children and keeping the family home going.
 "I think going back as an adult returner kept me focused. Unlike school where I just wanted to have a laugh I was there for a reason and that was to achieve the qualifications that I needed to progress my career.
One of the biggest influences for me was my lecturer at West College Scotland. Her commitment and passion for science rubbed off on me and that's a great quality for a lecturer to have – it gave me the drive that I needed and kept me on track.
With drive and ambition keeping him focused Steven went on to produce inspiring and influential pieces of work that were not only recognised by his lecturer but by the SQA.
"One of my biggest achievements was being awarded a grade A for my graded unit which was acknowledged by the SQA who wanted to use it as an example paper. To have your work recognised at that level was rewarding to say the least. It subsequently lead to me being awarded an Academic Excellence Award which I was thrilled at."
Since gaining his HNC in Applied Science Steven's career has gone from strength to strength. He is now a Senior Scientific Manufacturing Technician and has been selected to be part of the company's new 12 million pounds AGT facility. Global biotechnology company Thermo Fisher Scientific has built this new major expansion of the existing manufacturing facilities at its European, Middle East and Africa headquarters at Inchinnan near Glasgow.
The investment will increase the company's capabilities to support the rising demand for its GIBCO cell culture products used for biological drug research, development and production, and secure the supply chain for Europe, Americas and Asia.
Steven believes that without his time and efforts at college, he would not have been selected to be part of this exciting new project.
 If all that wasn't enough, he was also made editor of the company newsletter where he has written several product awareness articles.
"The last few years have been exceptional. Deciding to take my career in a new direction and go back to study were massive decisions – you could say they were a gamble. I can't say they haven't been without their challenges and a lot of hard work but they've proved to be life changing decisions and luckily all positive.
Gaining my qualification has definitely given me an advantage. It's been recognised by my employers and has allowed me to progress to where I am today. It's made me really happy and given me the opportunity to provide a better life for my family.
"For me this is just the beginning – I'm hoping in years to come to continue climbing the professional ladder and maybe even one day be a knowledge leader, passing my knowledge and skills on to others."