Patrick Burke, 22 from Maryhill who is in his final year of his studies tell us how the College's reputation made him bypass the more local colleges to come to our Paisley Campus. He said,' I initially came to college to study SVQ Hairdressing and Barbering. I applied to Paisley even though it wasn't the closest college to me, but I'd heard good things about the department and I knew the area well. I work in a salon at the weekends in between being a support worker for Community Lifestyles that assists young people who have mental health issues.'
Patrick (pictured below) reflects on his hairdressing experience and how the move to studying beauty therapy was inevitable.
'As I worked in salons I was intrigued to be able to give the complete salon experience to my clients. Most importantly I was intrigued about how it all works –to sign up for Beauty Therapy was the obvious option.'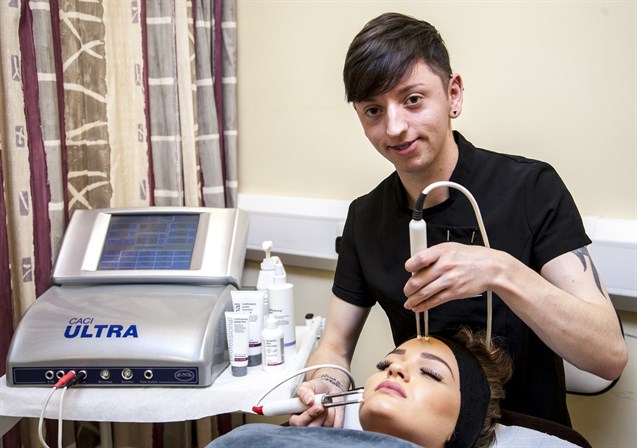 James Matthews, 18 from Paisley came straight to West College Scotland after completing a School Vocational Programme. James explained, ' At high school we came to college for a few days and I opted to take the beauty courses. I was the only boy in the class, but it didn't bother me. My lecturer told me all about the Level 6 course at the College and I decided it was what I wanted to do. I'd always wanted to do massage and aromatherapy and this course gave me access to the HND. My application was turned around very quickly and I heard within a week that I had been successful.'
Even though the UK beauty industry is worth millions, still very few men work or train in beauty therapy (around 2% of staff are male). However, as the number of salons aimed at male customers grows, this might change - men now spend well over £1 billion on grooming products each year. 
We asked Patrick and James how they felt studying for a career which has historically been ear marked as just for women. Patrick said, 'My class mates and lecturers have been very accepting of having a male therapist work alongside them. My clients have been great, but I wouldn't be offended if someone requested a female therapist. In the end of the day there is a large degree of trust built up with your therapist and the client needs to be comfortable.'
James added:
If you are keen to get into the Beauty industry don't worry about being a man in a predominately female industry – everyone is here to do the same thing. You need to be well organised and prepared to work hard.
Wendy Sheridan-Price, Curriculum and Quality Leader for Beauty said, 'When we got Patrick's application we sat down as a team and worked out how we could make it happen and adapted units accordingly. The team were very proactive to find a solution – but I wouldn't have expected anything less.
I'm so impressed with the professionalism of not only the staff, but of both Patrick and James. We've worked around any challenges if they arose and they've all taken things in their stride. To date we've not had any refusals by clients, which I think speaks volumes to the success of the course and how clients are made to feel comfortable during their treatment.
Patrick added, 'The lecturers have always been there to clarify any queries and are extremely supportive and accommodating.'
Partick and James tell us about their preferred areas of study and how the course isn't the right option for those who aren't going to commit fully. Patrick said, 'I enjoy waxing and massage techniques – both essential for any therapist. It's hard work, but very rewarding. We get training from Dermalogica and work on Caci machines which are expensive pieces of kit.'
James added, 'The course is probably a lot more work than I expected to be honest. There is a lot of theory and I've had to put in the hours to keep on top of my studies. I've had no problems whilst I've been here, but I know all I need to do is ask. Massage is my favourite treatment – it's very strenuous and I have a real feeling of satisfaction when I'm finished. To be successful you need to be patient, confident and professional.'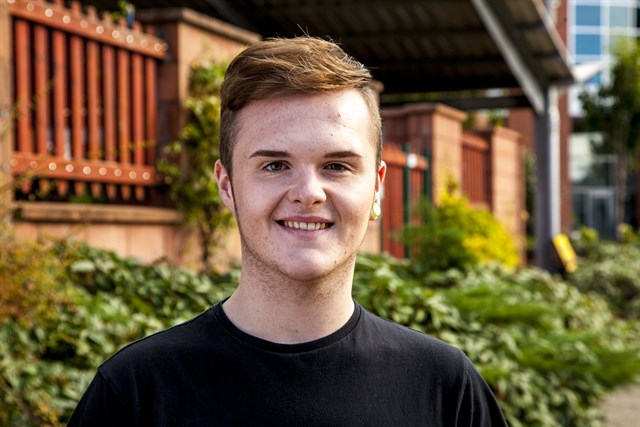 (Pictured: James Matthews)
On completion of the HND Beauty Therapy course students can seek a wide range of employment as a Beauty Therapist with enhanced Beauty skills and Salon Management skills. Employment opportunities include working within a commercial salon or spa offering specialised treatments, become a salon owner or manager and progressing towards seeking a career in lecturing Beauty Therapy.
Patrick concluded, 'Once I'm finished there are lots of options available to me. Not sure what route I'm going to go down, but I'll definitely be working as a therapist.' James added, 'Once I complete my qualification I'd like to travel and maybe work on the cruise ships. Can't imagine anything more rewarding, doing the job I love and traveling the world at the same time!
Wendy added, 'I don't think Patrick and James will be the last male therapists we will see applying at West College Scotland. There is a change in society; recent figures have indicated that men are more than ever making an investment in their overall finished look and are spending in excess of £1billion on grooming products per year – that coupled with the rise in male salons is a strong indicator for how we need to adapt our provision at the college to provide industry with the qualified therapists it demands.
For more information or to apply for any of our Beauty Therapy courses starting this August at one of our three campuses at Clydebank, Paisley or Greenock click here.