Maggie said, 'I left school with no qualifications, but I'd gone to college years ago where I got some O levels. I haven't kept the best health and I found this very frustrating as I wanted to get back to work and find some normality.
Maggie added, 'I'd been to Ferguslie before for some computing courses. I felt at ease that I knew where it was as I think going straight to College would have been too much especially with my health.'
After her computing courses Maggie started volunteering in her local community and has just taken on the role of Renfrewshire Digiteer; a project which was recently launched by Renfrewshire Libraries to support people with basic IT, using the Internet and emails and job searching online.
Ferguslie Learning Centre provides courses in the community all year round, and works in partnership with independent centres and local authorities. However what put Maggie really at ease was the staff at Ferguslie who made her learning experience so enjoyable and fulfilling. Ferguslie Centre Coordinator Kathleen Brown and Ethna McGhie, Lecturer at West College Scotland affectionately named by Maggie as 'Kathna'- her Ferguslie favourites!
'Kathleen and Ethna have just been absolute stars, 'Maggie said, 'they've been patient and kind – just lovely people.'
Maggie continued, 'I've not kept good health, but I don't like getting fussed over  or like the attention– but I can't lie, it's been a nice feeling to be looked after by these two lovely ladies! There is such a relaxed atmosphere and you are treated like an adult. The truth is I've never had so much fun learning in my LIFE! Everyone is there for the same aim – to get into employment. I'd definitely say I've gained more confidence since attending Ferguslie.
At a recent work experience the Customer Service Course visited the Premier Inn in Linwood, which Maggie found was an invaluable experience.
Maggie added, 'It showed a good working model for customer service and it really brought the course to life.'
Lecturer Ethna McGhie (pictured below wiht Maggie) commented, 'It's been a pleasure to teach Maggie over the past few months. She's been motivated and an enthusiastic student. It's been very humbling to see how far she has come and we wish her luck with her future course at the College.'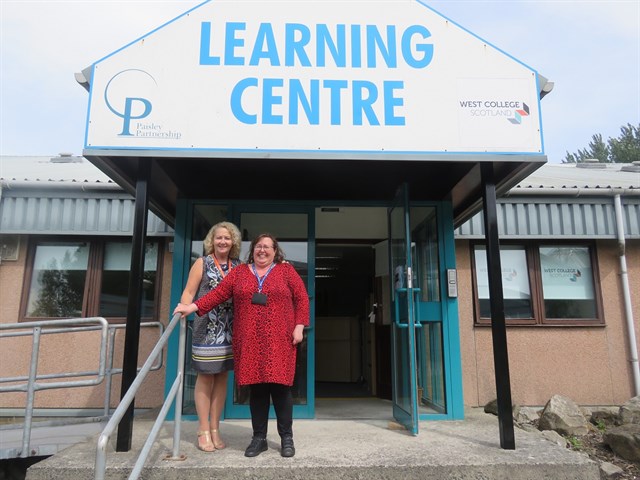 Maggie's son is just starting his honours degree in business explained how she felt now was the right time for her.
'I decided it was time to do something for me, so I'm enrolled to start Higher Psychology at the Clydebank campus in September. It's always fascinated me how people make the decisions they make. I'm so excited and have everything all ready to go.
Kathleen Brown, Centre Administrator at Ferguslie said, 'The Centre provides certificated learning opportunities at beginner's levels within a friendly, community environment. The programme has been designed to assist adult learners who have little or no formal qualifications, which will help them increase their confidence and personal wellbeing, employability skills and career opportunities. Maggie's success is just superb and it reinforces our commitment to community learning.'
What's Maggie's advice for anyone who's looking to get back into learning? It's simple.
'Go speak to Kathleen the Centre Coordinator - the first step is always the hardest – but she will out you at ease. I jumped in with both feet   - I never check how deep the water is! If you are lucky to get a 'Kathna' combo, then you really have stuck gold…'
If you'd like to know more about the courses starting this August at Ferguslie then click here – or call Kathleen on 0141 842 1015.