Thirty-two-year-old mature Returner Craig Wilson 32 from Balloch and twenty-year-old school leaver Kevin Dunsmuir from Irvine tell us why their Access level course in Applied Science gave them the head start in their career.
Coming back to education after 10 years mature student Craig told his story:
 'I started studying in Clydebank, I hadn't done much science at all when I was at high school although I did a standard grade in physics and enjoyed science documentaries when they came on the TV.  When I left school, I went straight into work and then it got to the point where I needed a permanent job.
I decided 5 years ago to go back and use my brain. So, I went back and completed the Level 5, then Level 6 at Clydebank then continued onto the HNC Applied Sciences at Greenock - I even managed to be awarded course Student of the Year. For my 4th year I did the HND in Biomedical Science. When I was studying the HND the position came up at the Clydebank campus for a temporary Science Technician and I applied for it and got it.
After four years study at the College Craig has now secured full time employment as a Science Technician at Hermitage Academy.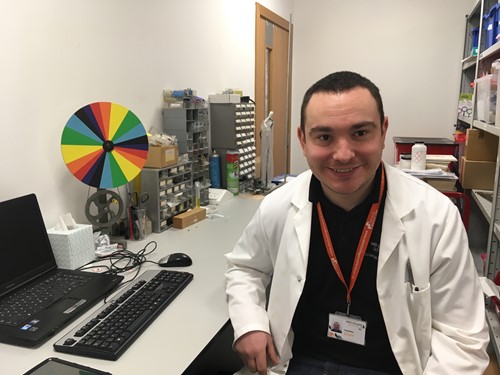 The College is a good environment for studying for sure. I came back when I was 28. I was apprehensive, but I pushed through it and the rest is history. Once I was in, I took to studying like a duck to water - I think it was because I was interested, and the lecturers were so approachable.  I think it really helps if you're keen and want to learn.'
Looking back at this school education Kevin explained why he thinks College was best for him. He said, ' When I was at school you never got 1-2-1 time with the teacher; but at College the lecturers tried to help wherever they can. You're expected to do a good bit on you won, but the support is there.
My advice would be, be open to learning at the Level 4/5 level you're getting all the sciences plus maths - it's full on and you must have an open mind. You'll aspire of going down a specific route, but you'll have to study a subject that you're not as comfortable with.
I'd recommend the College; it's been good for me. I'm disappointed to leave. I've been here as a student and an employee – so it's been a great experience all round. 
On the other side of the learning spectrum Kevin Dunsmuir came straight from high school to study the Level 5 Science course which focuses in Physics and Chemistry.
Kevin said, 'The National 5 course was good and from there I went to study the Level 6 and then the HNC. By doing the three years it's allowed me to see how well I've progressed and gain a sense of achievement. The physics elements of the Level 5 course has helped me massively with Maths and it was good at showing interchangeable units within the syllabus.  From chemistry to physics to biology. I just liked it.'
When I first came here I thought biology was what I was going to do and then found out the course was mainly physics and chemistry. I really enjoyed studying at the College and when I got to know the lecturers a bit better it was an easy choice to apply for a Modern Apprenticeship here. It's a nice place to work.
Kevin talks about how he's studying his HNC Applied Science alongside his apprenticeship.
He said, 'It's really good and I'm learning a lot on the job. It's a brilliant experience - I've been asked to do experiments I've never heard of before and been thrown in the deep end a few times.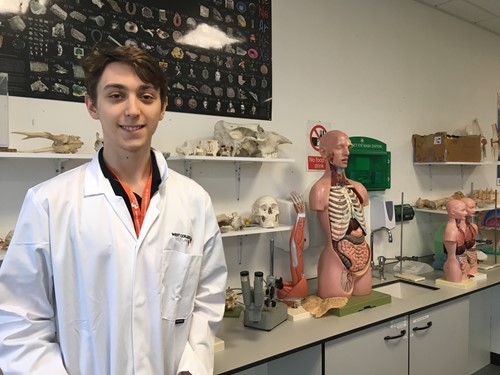 Kevin said, 'If you are thinking about an education and want to earn and you've got a keen interest then a Modern Apprenticeship is the way to go. I'm learning whist I'm earning. I know it's going to open up so many avenues for getting into University or experience for a full-time job. A lot of jobs want you to have experience and sometimes that's very hard to get.
Kevin's apprenticeship finishes in January 2021 so he's got time to consider his options.
He said, 'I'm learning a lot and doing a lot more than I thought I would. I thought there would be more paperwork, but I'm doing practical hands on interesting work. If you like science, experiments and learning then this is perfect to do.
When looking back at his Applied Science Level 5 course Kevin commented:
My advice to any students thinking about a career in science would be to look into the course and contact the lecturers for more information so you can get a good idea of what you'll be doing. The Level 5 gives a perfect foundation for the Level 6.
Keep an open mind when it comes to the course. You might think you know what your limitations are - you might even think you're terrible at something, but once you are in class the lecturers have a good way of getting you involved.'
Curriculum and Quality Leader Therese Shearer tells us why the entry level science courses are beneficial for those wanting to pursue a science career, 'Level 5 Science gives the students an understanding of Physics, Mathematics and Chemistry theory and practical's in the form of Laboratory experiments and analysis of results and writing of lab reports. This course also prepares student's for the world of work and employability skills by providing work experience units and mock science interviews. Most importantly it gives you the foundations to progress onto Level 6 and the HNC Applied Science course.
For more information on our Applied Science Level 5 course click here.