Beth McKenna was in S6 year at Port Glasgow High School when she decided to join The Recruit Inverclyde programme. At this point of time, Beth wanted to go into acting but joined the programme to open her horizons – and she actually found her career path – in a totally different field.
The programme really made me change my outlook and, in the end, I have a full time job in a field I'm passionate about! What more could you expect?
Run by the Inverclyde Council in collaboration with local businesses, The Recruit programme runs for three months, from April to August, and enables school leavers to find out what professional life is like and gain the essential skills they require to integrate and evolve within a workplace. Beth says:
What's really good about The Recruit is that it gives you lots of short experiences in different fields. Each day you get a challenge in a different company. It's a great opportunity to find out about all the different jobs you could do and find the one you would actually love.

For example, at West College Scotland, we had a trades' day where we worked in the construction department – we built a wall, made a bird house and so on. We also had a hospitality challenge where we had to prepare lunch – soup and sandwiches – for 50 staff members and students. It was quite a challenge but so enriching!
The outcome of the programme was very positive for Beth. She was offered a Modern Apprenticeship at West College Scotland in Business & Administration – the field she found a passion in. She explains:
I really got passionate about business and administration while following the programme. I had already taken up a higher in business in 6th year. I liked it but I still had in mind to pursue a career in acting. Working with the Administration team at West College Scotland made me realise that it was a field I could really flourish in. I'm so glad to have had the opportunity to discover this.
When asked what she would say to pupils who consider joining The Recruit, Beth asserts:
Go for it! It's an opportunity you'll probably never get again. Even if you think you know what you want to do in the future, the programme will give you a great life experience and – who knows – maybe unveil your true passion!

What's also great about The Recruit is that you're surrounded by people who support and guide you. You learn from so many individuals from all backgrounds, ages, skills sets. It's very enriching.
After working for one year at the College as apprentice Administrative Assistant in the Business & Technologies faculty, Beth successfully passed her Scottish Vocational Qualifications in Business & Administration (SVQ level 3).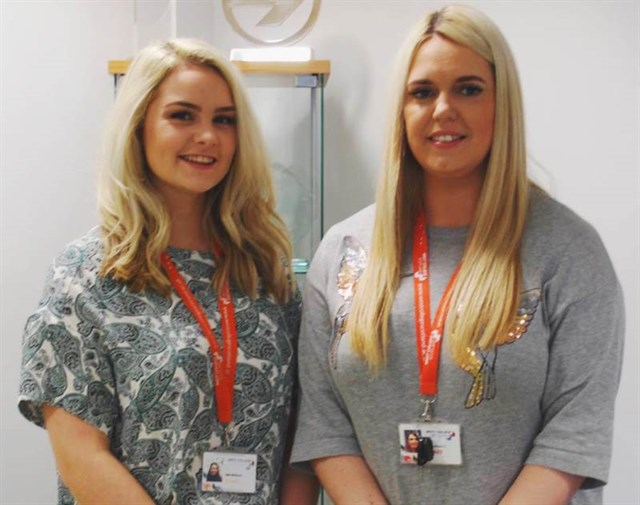 Lorna McNulty, Senior Curriculum Administrator (pictured above with Beth) was Beth's supervisor at the College. She was impressed by Beth's fast learning abilities and how she easily integrated to team and work place:
Beth was my first Modern Apprentice to gain a position through The Recruit programme and throughout her journey with West College Scotland she has grown from strength to strength. Beth joined the Faculty of Business & Technologies in Greenock and also worked across our Paisley and Clydebank campuses. Beth was very confident and any tasks that was requested of her was attacked with great enthusiasm. Following on Beth's successful placement from The Recruit in 2016, we are pleased to offer a new recruit, Brooke Scott a Modern Apprentice from the 2017 programme. It is a wonderful opportunity for Brooke to experience and gain knowledge and potentially open he door to a career working in the further and higher education sector.
Beth is very grateful for all the support she got from the team. She says:
The staff at the College has been very supportive throughout my apprenticeship. I got the right training to achieve my qualification. It makes all the difference when you work with people who are keen to help and who you get along with. It was a fantastic experience!
With her qualification in hand and the professional experience she has gained, 18-year old Beth has already secured a full-time job in the field she's passionate about. Supported by The Recruit Development Officer, she successfully passed the recruitment test and has been offered a Customer Service Assistant position at RBS. Well done!
To learn more about The Recruit Inverclyde Programme and find out how you can join, click here.
To find out more about our Modern Apprenticeships opportunities, click here.