Working on an array of projects over the year, including collaborating with local businesses for live client briefs, MOYAZINE is a culmination of some of their best and favourite pieces of work produced in a yearbook style magazine.
Not only does it showcase their work but gives an insight into their time at college with each student telling us about their favourite college memory, favourite artists, and inspirations and what they enjoy doing in their spare time.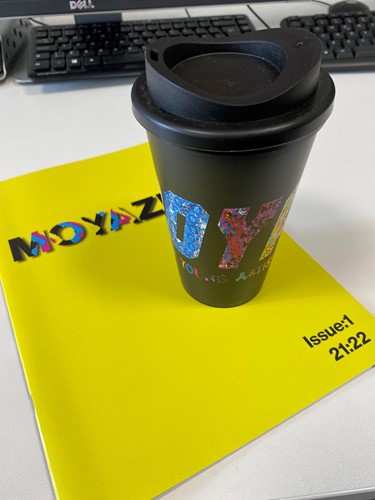 Twenty-eight-year-old Cameron Hunter who led on the project as Editor said, "MOYA has given me and my classmates a blank canvas to create and develop while allowing us to get our work out there and this is what the magazine is all about.
Working with MOYA this year has been so enjoyable. It's a nice change of pace from the stress of coursework and allowed me to focus on developing new skills and understanding about design.
Design Lecturer, Deborah Dennett commented, "MOYA is all about collaboration and teamwork, teaching students valuable entrepreneurial skills and has provided students with a much-needed diversion during what has been a challenging couple of years.
Working with these amazingly talented students has been an absolute pleasure for me.
'This project has given them real confidence in taking a design concept to a finished product and seeing all their hard work come to life in the form of a published magazine is just fantastic. I'm extremely proud of them and I am sure the talent showcased in the first edition of MOYAZINE all have bright creative industry careers ahead."
Twenty-one-year-old, Graphic Design student, David Beacham commented, "I've been at the College from 2019 studying NC through to HND, joining the MOYA team from the outset.
MOYA has given me the confidence I needed to really explore my ideas around the creative industry allowing me to create designs and learn new skills I never knew possible. 
'It has provided me with countless opportunities to work with clients in magazine printing and merchandising allowing me to get my designs out there. 
'My typeface design was chosen to be featured not only on the magazine but on merchandising products such as t-shirts and hoodies.  This Magazine has provided me with the opportunity to advertise and show off my design skills in a professional layout for people to view. 
From start to finish, I have enjoyed my time with MOYA, and I look forward to seeing where this takes me in the future.
Read a digital copy of MOYAZINE! 
The MOYA design has also been used to produce a range of merchandise including, re-usable coffee cups and t-shirts.
Congratulations to all the students involved in MOYA.