As part of the Critical Engineer initiative, West College Scotland was delighted to host 'Change through the Lens of Covid' an online event today, which saw SMEs from across Scotland come together for an interactive session, designed to prepare them for Scotland's Advancing Manufacturing future.
In partnership with Forth Valley College and Perth College UHI the event provided delegates with resources to plan and access funding and tools on how to equip their workforce with the skills and mindset to thrive in Scotland's Manufacturing 4.0.
Streamed Live, the interactive session saw the audience hear from a leadership panel and keynote speakers on topics including: Embracing Critical Challenges, Creating a Culture if Innovation, Unlocking your Toolkit of Innovation and Change and the Language of Meta Skills, allowing them to discuss their own experiences and put forward questions.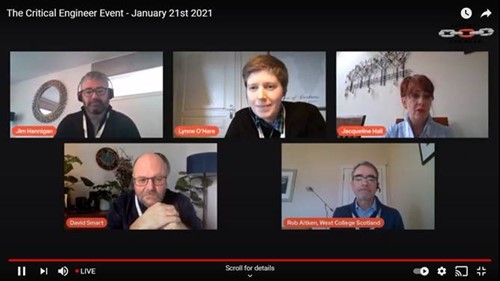 West College Scotland's Head of Enterprise and Employability and founder of the Critical Engineer, Paul Fagan said,
"At this difficult time for the Scottish business community, we were absolutely delighted to welcome so many small and medium enterprises, organisations who help them and our partner colleges to our event today. From feedback at the event, it was evident that many found the interactive sessions and online content invaluable.
This is just the beginning of our engagement with Scotland's SMEs and West College Scotland and our partners are committed to ensuring that they are fully aware of the funding, support, advice and training available to help them build resilient, collaborative and innovative employees and companies.
The Critical Engineer aims to build a community that will allow SMEs to access resources, share best practices and champion one another. You will be able to access each session from today's event on demand at our Youtube site and you can learn more about the support and learning available via LinkedIn, Twitter and Facebook.
Todays event has been recorded and can uploaded to YouTube for you to view.