HND Graphic Design Students from our Paisley campus completed working on a live client brief with Cohesion Medical Ltd for the fifth year running.
The HND Graphic Design students worked closely with the Cohesion design team on the project designing graphics for an app 'Marketing a Resilience App for Young People's Mental Health'. Even during lock down, the Cohesion Team and students kept their commitment to each other in place to complete the design project.
Cohesion is developing an app to help global citizens make positive changes to their lifestyle, health and well-being through self-management techniques. The app is designed as a holistic tool to help improve physical health and mental health as well as overall well-being. Mental health is a complex issue as every person has a very individual experience - everyone responds differently to recommended lifestyle changes and treatments.
Euan Cameron, Director Cohesion Medical said, 'Cohesion is delighted to continue our long-standing industry partnership with West College Scotland by supporting the students with our fifth live client project and sponsoring the annual Design Awards. It is wonderful to engage with Scotland's young design talent through the live projects and fantastic to view the creative work generated. We value our partnership with WCS and look forward to continuing to support their efforts nurturing the young design talent of the future.' 
Lola Paterson,  Graphic Design Lecturer at the College commented, 'This has been an incredible opportunity yet again working with Cohesion Medical. Our students have responded with an excellent professional standard of work even during these challenging times when after the design project was launched by Euan Cameron and Brenda Sharp, we all went into lock-down.  Equally a Resilience App for Young People's Mental Health is so appropriate in these times. This experience contributes greatly to them articulating onto university or future employment and showcasing their work. It's equally great that Cohesion Medical Ltd has for the 5th year given one of our HND Graphic Design students a fantastic work placement where she produced graphics for another project. A huge thank you to Cohesion's Team continued commitment to our HND Graphic Design students.'
1st PLACE PRIZE WINNER - KEVIN O'CONNOR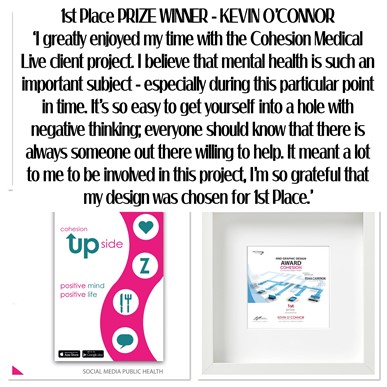 2nd PLACE PRIZE WINNER - JOEL TAYLOR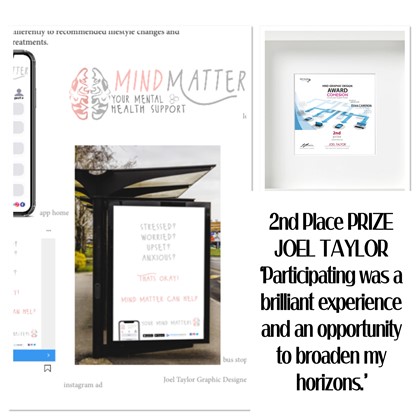 3rd PLACE PRIZE WINNER - RYAN KERR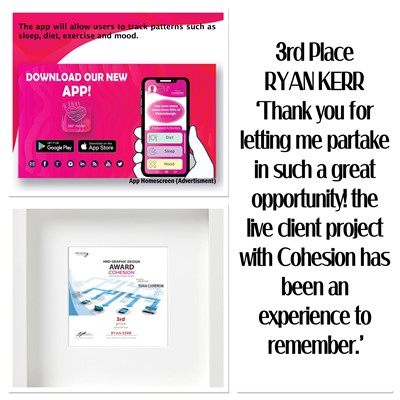 Congratulations also goes to the following shortlisted students:
ALASTAIR WYLIE
"Getting to work on a Live Client Brief provides a great chance to work on interesting projects and get a real taste of working in the Creative Industry. Wouldn't trade chances like that for anything." 
GILLIAN DEANS
"Thank you so much for the opportunity to work on such a creative project." 
AMY QUIGLEY
" I had a fantastic time working with and designing for Cohesion Medical. An app like this very important in today's climate and I have been honoured to work on it. I learned a lot from the experience."
*Cohesion Medical is a young award-winning Connected Digital Health Solutions company based in Glasgow. They are passionate about putting people at the heart of a connected health service. Their health solutions are used in Digital Life Sciences, NHS Scotland, Academia, Pharmaceuticals and Voluntary sectors. Their products incorporate three strands that provide solutions for clinicians, patients and their carers through the development of Mobile Apps, Web Apps and Clinical Software.*