Creativity definitely runs in the family for West College Scotland Graphics Student Hanna Pawlik, and her sisters Paulina and Kike who Graduated from our Fine Art & Interior Design Courses.
On Saturday 12 December, doors open for their inaugural exhibition 'Woman' where they will be showcasing their art work using different media and technique - it looks phenomenal!
For more information on our Talented Trio scroll below and find out more about their studies at West College Scotland and their aspirations for the future.
If you are inspired by their stories and have a passion for creativity, then apply in January and start your career in the Creative Industries in August 2021.  You won't regret it! 
Meet Kike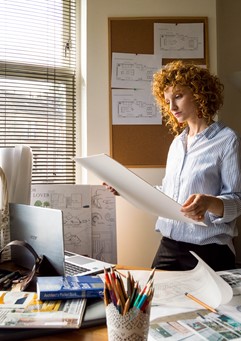 Kike lives in Paisley so West College Scotland was the natural choice.  Having previously studied Acting and Performance at the College Kike had no hesitation in coming back to study Architecture and Interior Design. 
The range of courses and reputation of the Creative Department at the College attracted Kike to the College combined with the opportunity to work with real clients.  This gives you excellent preparation for work in the real world and a great addition to your CV. 
Kike found it easy to get any information she needed whilst on her course and felt staff were friendly and supportive. 
She chose Architecture and Interior Design as a way to combine her creativity with a more stable career.  Whilst somewhat apprehensive about starting the course due to her lack of drawing techniques the move towards digital technology meant this did not hold her back. 
Kike managed to complete her full-time studies whilst also raising her son Charlie and despite having some personal issues during her first year the support she received from the College meant that she managed to successfully continue her studies. 
After three years of studying Architecture & Interior Design at the College,  Kike was accepted onto an Interior Design course at Glasgow School of Art and has even had the opportunity to write some articles for Mill Magazine! Did we mention that Kike also scooped Student of the Year at our 2019 Graduation?
If you are thinking about doing something creative be it drawing, painting, acting, designing etc then West College Scotland is the best way to start it. You won't be disappointed; it is a very welcoming, friendly and encouraging environment that will help you to reach your potential.
Talking about the exhibition Kike says:
"My subject matter tends to be those fragmentary passages that reside within the ordinary - the in-between spaces of our lives that we see but often do not notice. The installations are about capturing a moment of real life where both material and emotional aspects meet; of being cognizant of the world around me, leaving the past behind and pushing to find an alchemy between the all roles I am playing in my life. My art is a visual form of revelation, bravery and celebration. The visual meaning may be discovered afterwards – by those who look for it".
Meet Paulina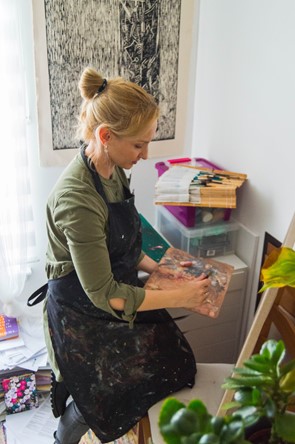 Inspired by her younger sister Kike, Paulina applied to the College to study HNC Fine Art with the aim to continue her studies at Glasgow School of Art.  
Paulina found the lecturers committed, enthusiastic and inspiring and helped her to develop ideas and research topics that were of interest to her.  Her favourite part of the course was being amongst other artists with the opportunity to create and exchange ideas with other art enthusiasts. 
Like her sister, Paulina is also a mother and felt that she managed to balance her studies and family life which helped give her a sense of fulfilment. 
Paulina achieved her goal with the help of her time at the College and is now studying Painting and Graphic Art at Glasgow School of Art.  She is currently preparing for two exhibitions one of which is in collaboration with her other talented sisters. 
The lecturers are very committed, enthusiastic, and inspiring  - they show you how to develop ideas and research topics of interest. One of the main advantages of studying at West College Scotland is the community of people with similar passions and the opportunity to make friends.
Talking about the exhibition Paulina says:
  "My current creative activity is mainly devoted to the study of various ways of representing the spiritual dimension of the human figure, internal states, and sacred spaces. I experiment with composition using found images, photos, and new digital tools to picture people. By combining silhouettes, mirror images, fortuitous print marks and liquid lines, I join figuration and abstraction in my graphics and paintings". 
Meet Hanna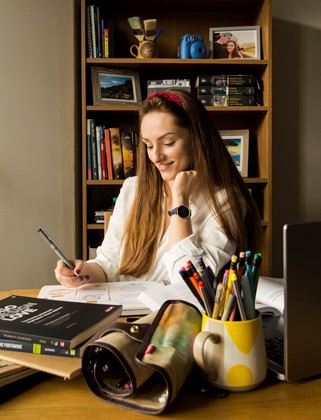 Last but not least is the youngest of the three sisters - Hanna.  Having heard such positive things about the College and encouraged by her sister after she saw some of Hanna's drawings, Hanna decided to apply to study HNC Graphic Design.   
She found the application process easy and quick and felt she received all the necessary information about the process.   
"I received all the necessary information about recruiting, and then a message that I was a student in HNC Graphic Design. I was so happy; I knew it was my best decision."  
As Hanna had only been in Scotland less than a year when she applied, she had to work to make ends meet, and whilst she found it hard to be a full time student and work at the same time she felt it was worth it. 
Despite struggling at first, Hanna found the lecturers very understanding and helpful and that they approach each student individually.   
"Thanks to great lecturers, I made great progress in one year and I learned a lot."  
Hanna has just progressed onto her HND in Graphic Design at the College and has the following advice for anyone thinking of studying at the College:  
Don't be afraid to dream. Make your dreams come true

 and b

elieve in your talents and abilities

 -

 do not be afraid to show them.

  

I highly recommend WCS

 a

nd

 my studies

 here

 changed my life. The knowledge and support that can be obtained from lecturers is invaluable.

 My studies have changed my life - they develop and inspire me as an artist!
Talking about the exhibition Hanna says:
"My current creative activity is continual exploration of memories and myself. My photos show the stories of women, their emotions and strength. I experiment with photography and light, still looking for myself."