Working closely with David Ross, Director of Keppie Design, the students were given a brief which involved designing a studio for a contemporary artist or sculptor, whose work and practice makes use of natural light.
Speaking to the students' lecturer, Lola Paterson, about the project she said,
David Ross's investment in West College Scotland's designers past and present has been outstanding. This particular project saw David deliver a session on design, inspiring and guiding the students before providing encouragement and feedback on their initial sketchbook work.
Opportunities like this provide our students with valuable experience which contributes greatly to them articulating onto University or future employment.
Having taken on-board the feedback given and fine-tuned their sketches, students were then invited to present their final designs to David and invited audience including members of the College's Senior Management team and their peers. Adding an extra dynamic to the project the students were then encouraged to contact the artist that they had designed the studio for.
Lola continued, "This has been an incredible opportunity for our students who have responded with an excellent professional standard of work. Having the opportunity to communicate with their actual clients really added to the experience and they were all delighted with the responses they received."
Gathering at the Paisley Art Centre to celebrate the culmination of their hard work, David accompanied by well-known Sculptor and client Andy Scott awarded the top three designs along with three commendation awards.
David Ross said,
This year's group of HND students have been exceptional; in their enthusiasm and creativity in responding to the Keppie 'Artists Studio' design project.
'Their collective desire to learn and improve, and their hard-working attitudes has been truly inspiring. I'm honoured to have been their mentor for this project and I'm certain that many of them will now look ahead to exciting futures as design professionals."
Receiving 1st place for her design for Singapore based artist Phil Akashi is 26 year old, Joanne Cherry, "This was our third and final live client project. The brief was a complete contrast to the previous spatial awareness project.
'Being tasked with designing a studio for Singapore based artist Phil Akashi an innovative studio, prominent of the Singapore skyline was the aim. The studio had surplus floor space for all requirements so a change from the norm was a learning curve. Keppie was a great project for giving grand scale and free reign to a point.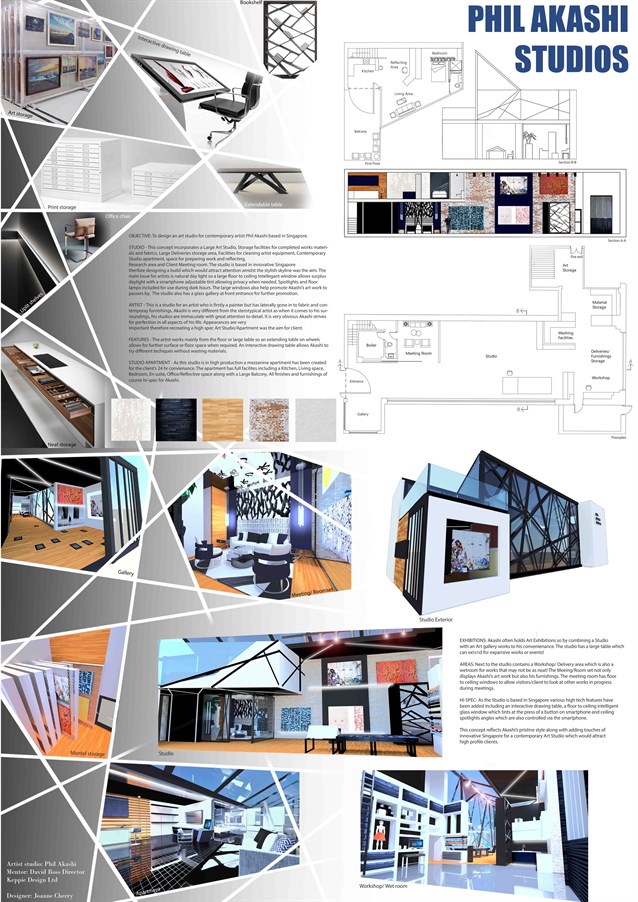 Joanne's winning work
'It's a great achievement to have been awarded 1st place by a company like Keppie who are renowned for their amazing worldwide architecture and design. Taking David's advice I'm now in regular contact with my client which I'm very pleased about.
Winning three live client projects has confirmed for me that I am on the correct path.
Congratulations to all the students involved, with special mention to:
1st Place – Joanne Cherry
2nd Place – Alexander Lake
3rd Place –Amy Savage and Aleksandra Gliwiak