Our charity work
Every year College staff and students work hard to fundraise for various charities. in the last two years, we raised just under £33,000 and supported over 40 charities - which was just amazing. Take a look and see how we are getting on so far in the 17-18 academic session.
(If you are planning a college fundraising event please email  marketing@wcs.ac.uk and tell us all about it so we can include your fundraising efforts!)
Raised by our students and staff this academic year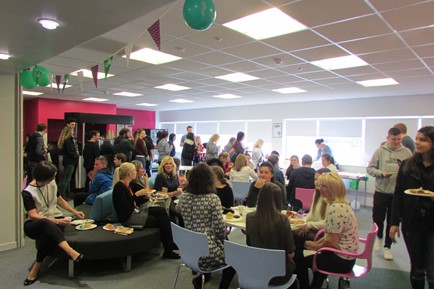 3 October 2017
MacMillan Coffee Morning (Greenock)
MacMillan
Science Staff and Students got together to bake scrumptious treats for all to enjoy at our Greenock Campus in aid of MacMillan. An amazing amount was raised at a very busy event. Congratulations!
£300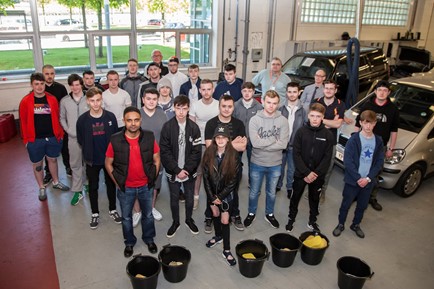 3 October 2017
Cleaning up for Charity
St Margaret of Scotland Hospice
Motor Vehicle students at the Clydebank Campus students got their hands extra soapy to raise funds for this much loved local Charity. Great effort everyone!
£296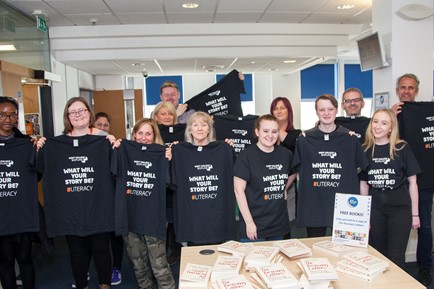 24 April 2018
Book Trust Raffle
Scottish Book Trust
Our Clydebank Library recently celebrated World Book Night by giving away free books to staff and students. To top it off they held a raffle in support of literacy, raising £30 for the Scottish Book Trust.
£30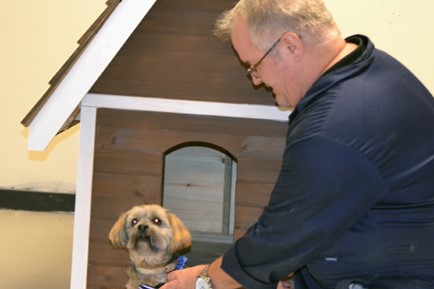 13 November 2017
Sale of Dog Kennels x 3
SAMH
A Barking Success! Our Construction department in Greenock built three dog kennels with all proceeds going to this wonderful charity.
£180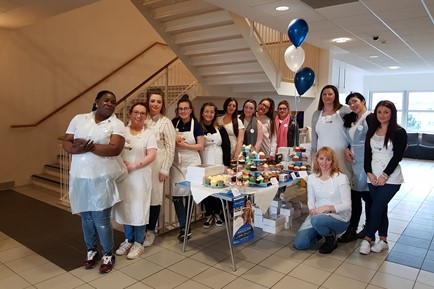 30 January 2018
Bake Off
Make a Wish Foundation
Well done to our Clydebank campus Entry to Early Education class who raised a whopping £320 for the Make a Wish Foundation. The students whipped up some show-stopping cakes and honed in on their team working skills to raise the money.


£320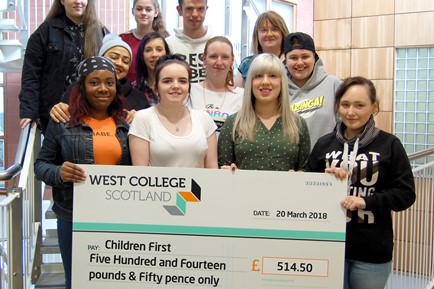 20 March 2018
Onesie Walk
Children First
Congratulations to our Paisley Care 4 Students who raised a whopping £514.50 for Children First by carrying out a walk dressed in their best onesies.
£514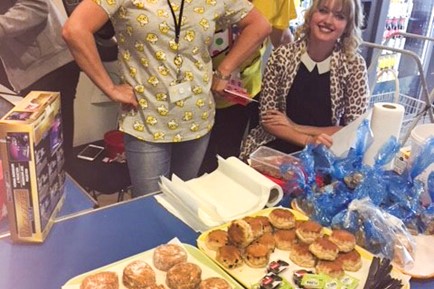 20 November 2017
Raffle
Children in Need
Cutting it for Charity - NQ Level 5 Hairdressers arranged a fabulous raffle at the Clydebank Campus. Thanks to all locals companies that provided a prize.
£574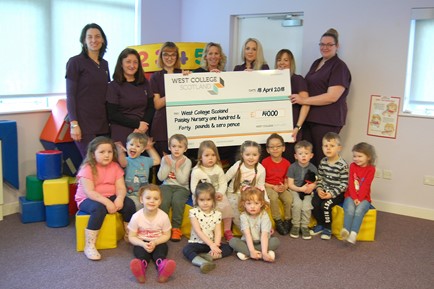 21 December 2017
Commercial Salon
WCS Paisley Nursery
Our Paisley HND Beauty Therapy students ran a commercial salon, with all proceeds going towards our Paisley Nursery. The children were very pleased! Well done!
£140